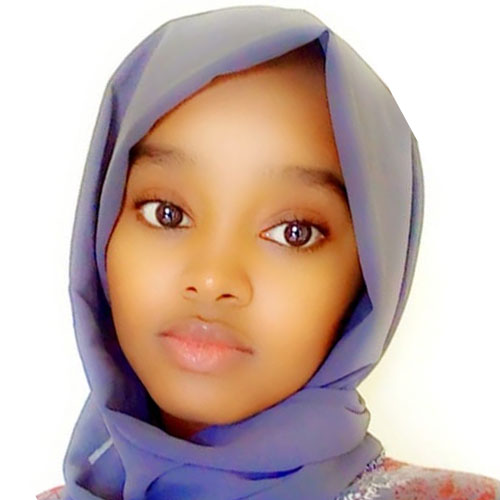 16 years old
Kenya
My name is Ikran. I live with my parents and my 8 siblings: 4 sisters and 4 brothers. I live in the North-Eastern part of Kenya. It is a rural set up with few technological advancements.
I am talkative and I get along easily with people. I believe I am the kind of person you would not get bored with. I make friends easily and you would never see me sitting at a function. I always try to, at least, talk to everyone.
I love traveling, doing outdoor activities, and hanging out with friends, going to new places, and trying out new things. I love watching travel blogs on my phone with the hope that I'll be able to create mine one day. I also love kids, so much that whenever I get the chance to visit a child's home I feel so good. I also read novels in my free time and my favorite author of all times is Paulo Coelho.
My mother has always stood by me. I believe that she always wants the best for me. She is my mentor, my advisor. She is the main reason why I did well not only in my high school education but also my primary education. I could describe her as the strongest woman alive because raising nine children is never a joke.
I finished my high school education last year and I am more than willing to join university hopefully if my parents will be able to raise the enormous amount of money required for my university transition.
About my dreams: I have the dream of going to Yale. This has always been our main goal together with my high school friend Grace. She is a step away from achieving our dream because her Mother lives in Maryland in the USA. I am still keeping my hope alive that I'll one day be able to go to Yale and study with my goals mate in high school. That is one of the scariest dreams I have because I sometimes feel like I have a 0% chance, but my mother has taught me to always stay positive and hopeful for everything is possible. It's my prayer that this will one day be a reality.
In 2017, I joined Silver Lining Kenya, a community-based organization that is a GNRC member that advocates against FGM. After being trained and sensitized, I was chosen as one of the girl ambassadors to train fellow girls in my community.