GNRC Third Forum – South Asia Report
GNRC South Asia Regional Session Report and Action Priorities for 2008-2012
Third Forum of the Global Network of Religions for Children
LEARNING TO SHARE
Values, Action, Hope
Number of persons participating: 30 adults and 4 children
From the following countries: India, Nepal, Bangladesh, Maldives, Sri Lanka, China, Japan, Korea, Pakistan, UK, USA and Canada
South Asia is the birth place for the majority of the world religions and it captures a vast range of multi-cultural, multi-ethnic and multi-religious communities. GNRC South Asia was formed on the basis of representation in the first forum. With the eight years of various experiences with GNRC initiated programs in the region, GNRC South Asia looks keenly at the vacuum of representation from South Eastern and Eastern Asia in the network. The expansion and strengthening is essential in the regional perspective, taking the whole Asian region in to account. South Asia also focuses on the three thematic group recommendations in the group discussions to come up with an action plan which can lead to practical, concrete action rather than a list of recommendations.
Ethical imperative to end poverty at National Level and Regional Levels
Priority Actions for 2008-2012
1. Continuity of 'Walking Together' Campaign train Youth Leaders to take up the Campaign
2. Use Ethics toolkit to bring closer to the three themes – Violence, Poverty & Ethics
3. Promote Anthiodiyo and focus on putting children first in Human Development
4. Linkage between Schools & Communities eg. Private & Government
5. Equip adults with skills & knowledge to work ,work with children (form adults groups)
6. Interfaith exchanges /visits
7. Lifelong Education
8. Art & Music (share experiences of children eg pain, learnings, be in each others shoes through different mediums eg visits, songs (offer from Raffi/Canada & Chikako Kora/Japan internet etc
9. Exchange cultural shows etc use media, link Ethics to Ethics & Culture & traditions
Ethical imperative to eradicate violence against children
1. Facilitate teacher training programmes on peace education and ethics promotion in all levels of educational institutions including pre-primary (ECCD). Focuses: promoting cooperation rather than competition, teachers teaching through example rather than through instructions only.
2. Community oriented programmes to prevent violence after alcohol use (with country specific strategies and emphasis). eg. Self help groups, youth pressure groups
3. Spiritual programmes for pregnant mothers and the fathers and for pre-pregnant couples
4. Social marketing campaigns directed against violence.
5. Improving immunity among children to promotion of violence through media – children are given the opportunity to imagine alternative positive media which is as interesting and attractive as the current negative media
6. Initiation of a dialog with religious leaders, CBO/CSO representatives, on incorporating promotion of non violence and peace
7. Advocate to introduce the tool kit in schools
8. Preparation and collecting of stories, folk and fairy tales which promote non-violence and peace.
Ethical imperative to protect the Earth
The Regional Network believes that the four areas; Responsible Consumption, Sustainable Agriculture, Protection and Using Alternative Energy are interconnected on the grounds of Spirituality, Values and Ethics. Therefore each of them needs to be addressed at the same time.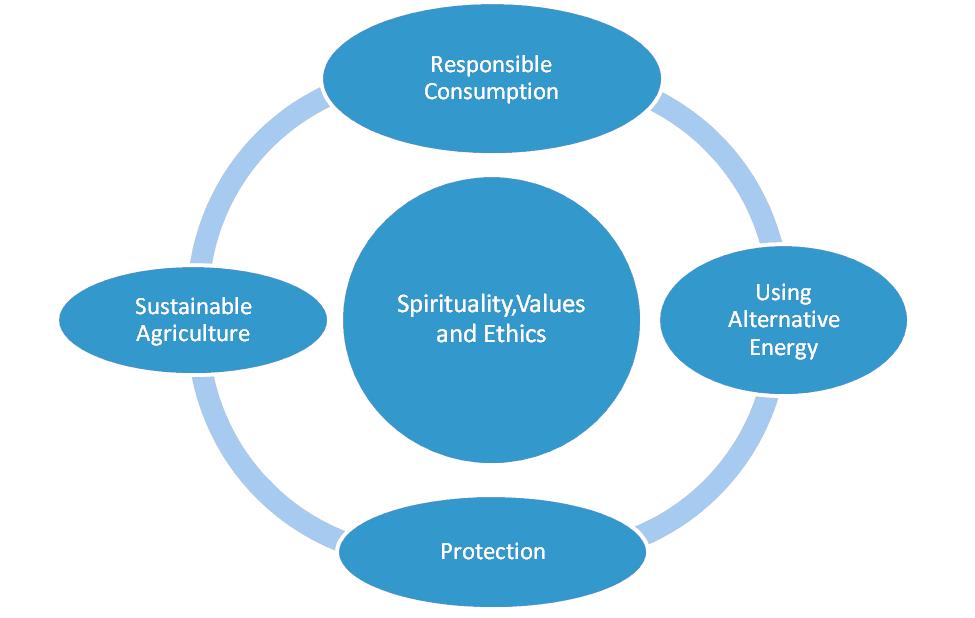 1. Programmes aiming and encouraging consuming locally and naturally (Ethically) produced food
2. Programmes aiming and encouraging community feeding (especially food)
3. Involvement of youth/ children in the decision making process with regard to the selection and consumption of food
Bring different organizations and communities together Community supported Agriculture (CSA) – an agreement between local consumers and the local producers
Encouraging and initiating home gardening/ kitchen gardening and the involvement of children in the process
Programmes aimed to Popularize rain water harvesting
Protection
Encouraging wormy compost in houses
Promoting and popularizing the 3R concept
Educating and empowering on separation and categorizing (mgt) of solid waste
Alternative Energy
Encouraging to use the Energy conserving stove
Programmes to initiate and empower people to use Bio-gas management and Solar energy
Inputs and action for the Day of Prayer and Action for the Children:
We hereby support and endorse the idea of international day of prayer and at the same time propose a week of prayer instead of a day and various activities planed through out the week. Also we propose "A day of prayer, worship, meditation and action for children by the world's religions" as the title for it to be more culture and religion friendly. Releasing Mass Media messages and highlighting on the international day of prayer, worship, meditation and action for children by the world's religions and also we propose to launch a stamp to commemorate the same.