Under the theme "We Can Do Something to Stop Violence", around 40 young people and children gathered to celebrate the World Day of Prayer and Action for Children at the Refugee Center in Rixensart, Belgium. The event was organized by the GNRC Youth Group together with FEDASIL, an NGO working with Refugee children.
Participants were children from 12 and 17 year's old from the Refugee Center and also young people from Brussels and Nivelles. They came from three religious communities, Christians (Catholic and Protestants) and Muslim.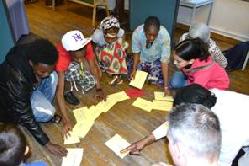 The programme included activities that allowed children to work individually and as a group on ways as they could contribute to stop violence and help others to act peacefully. They reflected on violence and became more aware of the fact that they are actors of change and they can make a difference. They also had fun and enjoyed a delicious "Gouter" (snack) and finished dancing together.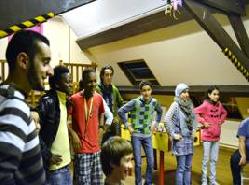 The DPAC event at the Refugee Center was a good opportunity for reflecting on the values of mutual respect, empathy and non discrimination and affirms unity and solidarity. All participants were very glad to have met persons from very different backgrounds and spend a very good time together with the desire to start again all together.