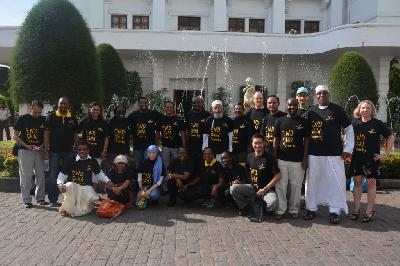 The End Child Poverty initiative of the Arigatou International launched at the GNRC Fourth Forum in 2012 in Dar es Salaam, Tanzania has made tremendous strides towards achieving some of the goals announced at the Forum. The launch of the End Child Poverty Knowledge Center on 17th October in Sri Lanka was a major step. The Knowledge Center was launched on 17th October on the International Day for Eradication of Poverty (IDEP).
GNRC Members from more than twelve countries in South and South East Asia joined the Steering Committee Members of End Child Poverty, religious leaders and faith communities at the Sarvodaya Sharamadana Headquarters in Muratuwa, Sri Lanka, for the launch.
President of Arigatou International Rev. Keishi Miyamoto expressed the commitment of Arigatou International 'to mobilize faith-based resources to end child poverty, to challenge the unequal distribution of resources, war and violence, poor governance and corruption.' Rev. Miyamoto further added that 'interfaith advocacy and grassroots action' would be conducted 'to overcome poverty'.
The Director of End Child Poverty, Rev. Fred Nyabera emphasized the need to refocus on the dignity of children. End Child Poverty Steering Committee Members underlined the need to focus on children and the family in the efforts to address poverty. Sarvodaya Movement Secretary General Dr. Vinya Ariyaratne reiterated that it was only possible to change the world by transforming ourselves. He repeated the call by the late South African anti-Apartheid icon—Nelson Mandela, that poverty is man made and is the worst form of violence.
GNRC Secretary General, Dr. Mustafa Y. Ali called on religious leaders, faith communities, governments and multi-lateral organizations to re-ignite efforts for sustainable development and asked for child-centered sustainable development goals to replace the MDGs. He noted that while it is difficult to capture and count all the contributions made by faith communities in development towards poverty eradication, they none-the-less mattered and must be incorporated and acknowledged.
The launch of the End Child Poverty Knowledge Center was preceded by the GNRC Meeting for South and South East Asia, the Steering Committee meeting and the Roundtable to End Child Poverty.