World Day of Prayer and Action for Children celebrated on the 20th of November as a renewal of the commitment to protect the inviolable dignity of children worldwide.
Badulla, Sri Lanka, 22nd November 2010 – In commemoration of the 21st Anniversary of the UN Convention on the Rights of the Child, a celebration of the World Day of Prayer and Action for Children was hosted by Sarvodaya, Sri Lanka's largest people's movement, at a gathering of over 750 community leaders of all ethnic and religious groups at the Passara Central College, Badulla from the 19th to 21st of November 2010.


During this occasion Sarvodaya launched a 5 point campaign for the protection and wellbeing of Children island wide. The campaign's key messages were focused on importance of breast feeding especially in the first 6 months of a child's life, nutrition and good health practices, child friendly family environment, protection from abuse and ending child labour.


The Guests of Honor at the event included Dr. A.T. Ariyaratne – Founder of the Sarvodaya Movement, Uruwarige Wannilaaththo – The Chief of the indigenous Weddah people and Dr. Vinya Ariyaratne – South Asia Regional Coordinator for the Global Network of Religions for Children (GNRC).
The key note speech was delivered by Mr. Jayatissa, the Provicial Health Educator for the Uva Province, introducing to the audience the World Day of Prayer and Action for Children, its significance and speaking on the 5-points of the campaign with special focus on child friendly family environment and responsibility at family level for the protection of Children.
His speech was followed by a speech from Mrs. Amara Peiris – National Focal Point for the International Baby Food Action Network (IBFAN), speaking on the importance of breastfeeding especially in the first 6 months of a child life followed with complementary feeding as the child grows.
Thereafter, Mrs. Neetha Ariyaratne – the Secretary of the Sarvodaya Suwasetha Sewa Soceity, captivated the audience emotionally, speaking on the topic of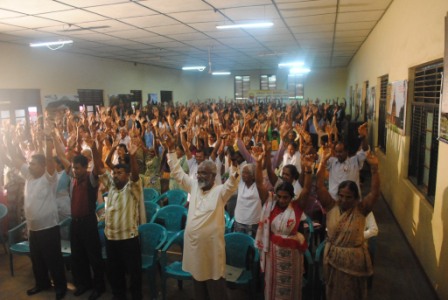 Child Abuse and the need for protection of Children through her experience of overseeing children's homes spread around the country including a special nutrition centre for orphaned infants and a home for teenage mothers over the past few decades.
The three day awareness raining stall on the 'Let us protect Our Children' campaign run by the GNRC South Asia staff and volunteers proved to be very popular attraction for the community leaders and children.
During the program a special cultural evening took place and among the many performances by Children's groups was a special 'viridu' performance where a GNRC member had a presentation about the importance of Child protection and the 5-points of the 'Let us protect Our Children' campaign. The 'Let us protect Our Children' campaign will be followed up with action at community level through out the coming year through Sarvodya's network.