ECUADOR CELEBRATES THE WORLD DAY OF PRAYER AND ACTION FOR CHILDREN WITH A CONFERENCE ON ALTERNATIVES AND ACTIONS TO END VIOLENCE AGAINST CHILDREN.Leer en castellano…The protection of children against all forms of violence is a fundamental right that the international community has solemnly committed to protect everywhere and at all times. Unfortunately, violence remains a harsh reality for millions of children around the world and Ecuador is no exception.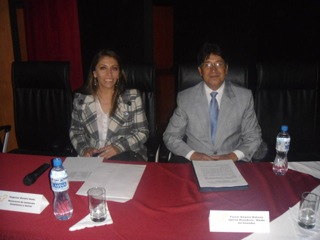 Violence not only slows down the development of the child, but it also affects the learning abilities and school performance, as well as inhibits positive relationships, causes low self-esteem, anxiety and depression and sometimes leads to risk-taking, self-injurious and aggressive behavior. Violence occurs in all contexts, including places where children should enjoy a safe environment and special protection as health institutions, schools and homes.
Given this reality and in the framework of the celebration of the 54 years of the Universal Declaration of the Rights of the Child, on Novembre 8, 2013, the Global Network of Religions for Children (GNRC Ecuador) organized the conference: "Actions and alternatives to violence against children in Ecuador." The conference was held in the Aula Magna, Block B of the Salesian Polytechnic University (Campus Giron) from 5:00 to 7:00 p.m.
The speakers were: Pastor Ramiro Balseca of the United Methodist Church of Ecuador, Dr. Juan Mayorga of the Evangelical Lutheran Church of Ecuador, the sociologist Bladimiro Luque of the Baha'i Faith, Mrs. Natalia Unda from the Ministry for Economic and Social Inclusion, Mr. Jesus Loachamín of the Salesian University and Father Luis Emilio Obando, Deputy Secretary of the Subcommittee on Ecumenism and Interreligious Dialogue of the Ecuadorian Episcopal Conference.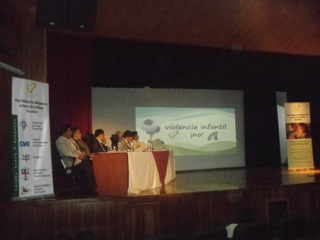 The conference was attended by 250 people representing various organizations, members of the GNRC in Ecuador, World Vision's representatives and students and teachers of the University.
The ecumenical and interreligious work that has been fostered by various churches and faiths with the aim of joining hands to end violence against children, was celebrated during the conference.
The Forum was also an opportunity for the participants to propose alternatives and joint actions for the protection of children, adolescents and youth in Ecuador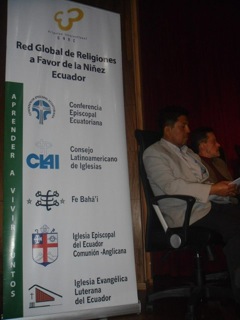 Written by: Marco Laguatasi, GNRC Ecuador Coordinador
Translation by: Silvia Mazzarelli