Leer en castellano…The DPAC was celebrated in two parts in Chile. First, youth volunteers brought cheer to young residents of a Home for Children; and second, a public ceremony was held in Santiago City Center.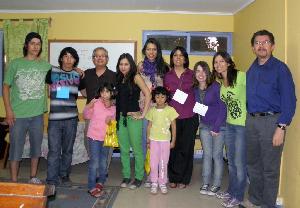 The Global Network of Religions for Children (GNRC) Chile hosted the Day of Prayer and Action for Children (DPAC) at the El Arca Home for Children on November 18. There were 45 persons attending, including children, Arca staff, youth volunteers and the GNRC management committee.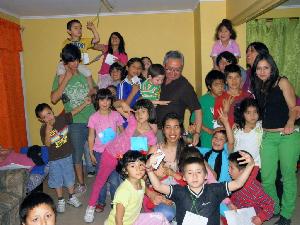 After introductions, there was an explanation about GNRC and the DPAC. Next, the monitors lead games and songs. A room had been prepared to project the movie "You Are Special" for the children. The children later shared their ideas of how to change violence to acts of respect, peace and love. Then, children formed three groups to prepare skits on different types of violence, and identify the way they felt representing them.
To the tune of "The Children Want Peace" everyone was given a copy of the Latin American Prayer, which was then read by Home for Children Director Luis Castro. He then requested three children to say a prayer of thanks for the celebration. The activity ended with a group picture, and bags of treats for the children.
The Day of Prayer continued on November 19 at Quinta Normal Park in downtown Santiago. The Diego de Medellin Ecumenical Center again hosted the yearly event, and gave GNRC a moment for prayer with the participants and the chance to talk about the work GNRC does in Chile and at the GNRC stand with materials, a volunteer did face-painting for the children.
Original article by Tania Seguel and Victor Rey Riquelme.
GNRC Chile.