NO INTRO TEXT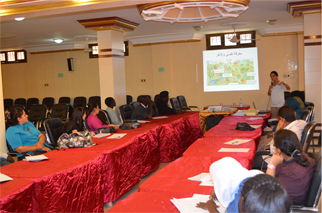 GNRC Arab States Region secretariat, in cooperation with GNRC Sudan, had conducted a Regional Workshopfor Educators and School Teachers on Promoting Ethics Education for Children, through Inter-faith Learning. The Workshop was organized in Umdurman, Sudan, from 18-20 November 2011. It was attended by 38 teachers and educators from Churches, Mosques, and Private schools in Greater Al-Khartoum, including the provinces of Al-Kahartoum, Bahri and Umdurman.
The participants represented various organizations, religious beliefs and ethnicities including Ethiopian Orthodox Christians, Coptic Orthodox Christians, Catholics, Members of Anglican and Evangelists Churches and schools,as well as Muslims.The venue of the Workshop was the Conference Center of the Coptic Orthodox Church in Al-Masalmah area.
The Workshop included an introduction to the Learning To Live Together Toolkit, its history, concepts and values. The training also focused on skills and knowledge educators should acquire to use the Toolkit in their own contexts. The Sudanese context regarding children and their education was discussed and related to the values, concepts and learning processes and methodologies in the Toolkit.
The participants had the chance to undergo some of the activities from the Toolkit and assess the nature and quality of education presented. They were split in groups to discuss an action plan for GNRC in Sudan, which was finalized and adopted in the final session of the workshop.
The training was facilitated by Rev. QaisSadiq, The GNRC AS Regional Coordinator, as well as Miss. Hind Farahat (Jordan) and Mrs. Marian Nagi (Sudan). Volunteers from GNRC Sudan helped with documentation and logistics.