Thirty eight participants in the GNRC AS Regional Workshop on Ethics Education for Teachers and Educators celebrated the World Day of Prayer and Action for Children (DPAC) in Om-Durman, Sudan.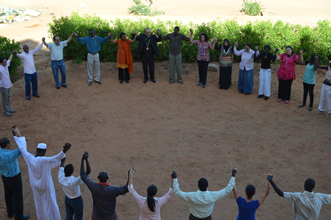 They joined hands in prayer in the entrance of the Conference Center of the Coptic Orthodox Church in Al-Masalmah, Om-Durman. Their prayer and commitment to the Children of the world were coupled with their determination for action and education to better children's lives in Sudan.
The prayer was led by Rev. Qais Sadiq, the GNRC AS Regional coordinator, and involved Ethiopian Orthodox Christians, Coptic Orthodox Christians, Catholics, Members of Anglican and Evangelists Churches as well as Muslims.
The celebration took place on the 20th November 2011, which was the third day in the Workshop the participants attended.