NO INTRO TEXT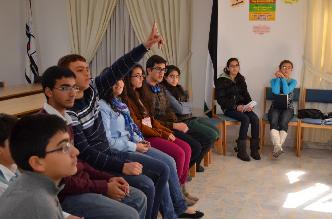 The GNRC Arab States organized a Local Workshop for Children in Preparation for the GNRC 4th Forum in Jordan. It was entitled "Ending Poverty, Enriching Children" in accordance with the slogan for the GNRC 4th Forum in June 2012.
The Workshop took place from 19-20 January 2012. It was attended by 18 Children and youth who are active in GNRC Jordan and GNRC Arab States Youth Net; members of the GNRC Youth Group in Jordan and students from GNRC member schools in Amman.
The participants who had the workshop in the Ecumenical Studies Center, Amman, were Muslims and Christians aged 13-16.
GNRC children and youth spent two days discussing and sharing their ideas about Poverty in general and Child Poverty in particular. Ideas discussed included:
• The difference between Wants and Needs. Is poverty relative? To what extent?
• Child Poverty and the poverty of the family (Children as part of families).
• Life-Cycle Approach to poverty
• How education and health play a role in elevating poverty in all its types.
The GNRC 4th Forum sub-themes were also discussed including unequal distribution of recourses, violence, wars, and bad governance and corruption.
The two working days were facilitated by Miss. Hind Farahat with administrative help from Miss. Rand Farahat.