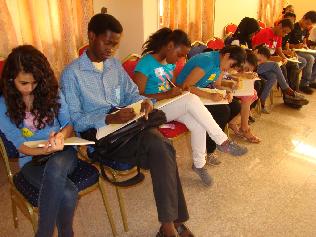 The GNRC Arab States, in Cooperation with GNRC Sudan, had organized a National Workshop for Children in Preparation for the GNRC 4th Forum. The Workshop that went on for two days; 4- 5 February 2012, was attended by 30 children and youth from various regions in Sudan.
Participants were Muslims (Sunni), Christians (Coptic Orthodox, Ethiopian Orthodox, Catholic, and Protestants). They came from different ethnic groups including Egyptians, Ethiopian Africans, and members of Muslim tribes in Sudan. Some participants originated from South of Sudan, which is now a separate country.
Children and youth had the chance to share their understanding of poverty and its dimensions, while receiving training based on the Learning to Live Together Toolkit. They discussed how bad governance related to poverty, as well as violence and wars. Unequal distribution of resources was another theme they explored.
The participants aged 14-17 and the Workshop was hosted by St. Georges School in Om-Dourman.
Members of GNRC Sudan Committee and representatives of GNRC Member Organizations were present throughout the workshop, as well as Chaperons of Children from different regions and organizations.
The two working days were facilitated by Miss. Hind Farahat with help from Mrs. Marian Nagi, member of GNRC Sudan Committee, and Miss. Rand Farahat, a GNRC Volunteer.