NO INTRO TEXT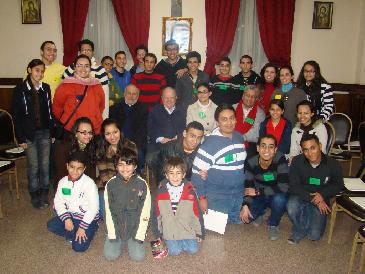 "Ending Poverty, Enriching Children" was the title of the Children Workshop in Preparation for the GNRC 4th Forum that was organized from 7- 9 February 2012 in Cairo, Egypt. GNRC Arab States Secretariat and GNRC Egypt Committee collaborated to organize the workshop that gathered 30 children and youth from various schools and religious communities in Cairo.
Participants aged 14-18 and belonged to different religious traditions including Islam (Sunni) and Christianity (Coptic Orthodox, Arab Orthodox, Coptic Catholic, Roman Catholic, Anglicans, and Protestants).
The Workshop was held in the Church of Archangels for Arab Orthodox Community in Al-Daher Area, Cairo. It discussed the main theme of the GNRC 4th Forum; Poverty. The participants were led in a training based on the Learning to Live Together Toolkit to discuss the sub-themes of the 4th Forum as well. They had a chance to share and express how they experience unequal distribution of resources, bad governance, and violence.
It happened that the workshop was held during the week that marked one year since the Egyptian Revolution, a theme that resonated in the overall discourse in the workshop.
Members of GNRC Egypt Committee and representatives of GNRC Member Organizations were present throughout the workshop, as well as the board members of the Church of Archangels for Arab Orthodox Community.
The three working days were facilitated by Miss. Hind Farahat and Miss. Rand Farahat; GNRC volunteers.