At the sidelines of the COP17 meeting in Durban, young people who embarked on an inaugural Journey from Kenya to South Africa, and children from St. Francis School in Durban, South Africa marked the Day of Prayer and Action for Children on November 20th, 2011.
The Caravan organized under the banner of We Have Faith Campaign, passed through several countries from Kenya through Tanzania, Zambia, Malawi, Botswana on its way to South Africa, and was received at the Durban Kings Park Stadium by religious leaders. Among those who addressed the rally at the Stadium included the Nobel Laureate Archbishop Desmond Tutu, Archbishop Thabo Makgoba, Wilfried Cardinal Napier, Dr. Mustafa Y. Ali and others.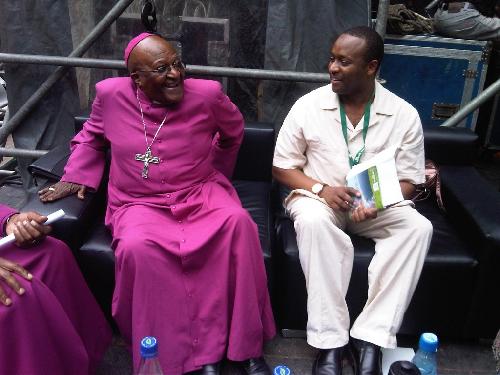 Later, Children from St. Francis School in Durban began their Trashon Show by marking DPAC. Dr. Mustafa Y. Ali who addressed the children gathered at the Diakonia Centre shared with the religious leaders the GNRC Fourth Forum which will be held in Dar es Salaam, Tanzania in 2012, and the expectation to address the theme of poverty during the Forum. Dr. Mustafa stated that the Forum will honor the children who died in Soweto, Johannesburg in 1976, at the hands of the Apartheid Regime.