In Tanzania's cities of Dar es Salaam, Unguja, and Pemba a series of trainings organized by the Global Network of Religions for Children (GNRC) Africa, brought together over a hundred schoolchildren, youth peace club members and their patrons aiming at equipping them to understand, practice and learn how to live together using the Learning to Live Together (LTLT) toolkit.
This was part of the Training of Trainers (ToT) exercise conducted between February and March, with the overall aim of promoting peace and harmony within society by teaching peace-club
leaders how to use the LTLT toolkit and enabling children and youth from different religions and culture to work together towards development.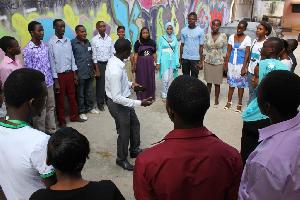 The toolkit, which is the first outcome of the worldwide Ethics Education Initiative launched by the Arigatou Foundation and GNRC in 2008, approaches the issue of Ethics Education from the perspective of Intercultural and Interfaith learning, human rights and quality education, where ethics and values are nurtured and where youth and children are given the space to develop their innate potential for spirituality, to understand and respect people from other cultures and religions.
During the recent training in Tanzania, activities undertaken included preparation of lesson plans, presentations and exercising on how to use the manual and most importantly — how to put into practise the lessons learned.
The Swahili version of the resourceful manual will be launched during the upcoming GNRC Fourth Forum.