The African Council of Religious Leaders — Religions for Peace (ACRL—RfP) and the Global Network of Religions for Children (GNRC Africa)) under the project " Dignifying Childhood" facilitated implementation of a number of activities in several African countries to mark the World Day of Prayer and Action for Children (DPAC). The activities were centered on the theme, "Stop Violence Against Children". Participating countries included: Kenya, Ethiopia, Democratic Republic of Congo, Liberia and Somalia. Below, you can discover some of the activities held in Kenya. Kenya, Garissa
The Day of Prayer and Action for Children 2011 was commemorated at the Garissa Muslim Children's Home (GMCH) with the participation of 300 children comprising some of the Orphaned children living in the Centre. The Garissa District Children's Officer led officials from his office to the event at which he was also the Chief Guest. The participants reflected on the dire conditions children in Kenya-Somalia border find themselves in as a result of the over two Decade old violent conflict in Somalia and the yet to subside famine and other Humanitarian disasters afflicting the area.
The Children and the Local Sheikhs present prayed for the children of the region specifically and for the children of the whole world generally. The event was very well covered by local (vernacular) FM Stations and the National (Kenya Broadcasting Corporation) Radio. The Participants resolved to commemorate DPAC every year in partnership with other Networks concerned with the welfare of children.
Kenya, Kabarnet Division of Baringo County
Baringo County is located approximately 300km from the city of Nairobi. DPAC activities were carried out in eleven primary schools in Kabarnet Division.
14th to 19th November 2011
Activities 1-10: Tree planting
Many of Africa's conflicts and violent activities have majorly been traced to inadequate resources. With many economies being agriculture dependent, climate change has negatively affected many countries in Africa, with high poverty levels being recorded. Tree planting was chosen as one of the activities to mark DPAC as a way of mitigating effects of climate change.
The days leading up to the climax day (14-19 November) in Baringo county were used to plant trees in 10 primary school grounds in Kabarnet Division. These schools were: Kaptorokwo, Kapchomuso, Kapropita, Kiboino, Seguton, Turkuo, Kituro, Kapkut, Visa Oshwal and Mumol primary schools.
Teachers engaged children on the concept of Violence Against Children after which trees were planted in each school.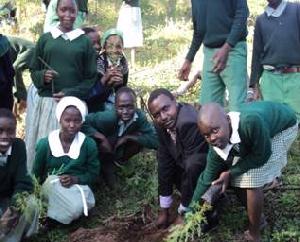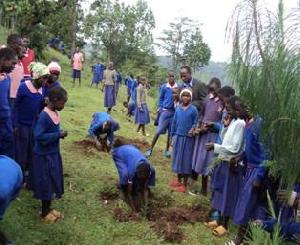 School children and teachers plant trees
Kenya, Kaptimbor Primary school grounds, Kabarnet Division
The climax day was November 20, 2011with Kaptimbor Primary school within Kabarnet Town hosting over 300 children, many parents, religious and local leaders. Other than songs, poems and dancing, three main activities were implemented.
Activity 1: Spiritual reflection and children's activities
Both Islamic and Christian perspectives of violence against children and the role of parents and leaders were given. Bishop Chepsat shared a number of biblical scriptures on care of children and their place in the mind of God. In the bible, God commands all to identify with the suffering and the weak, to resist the temptation to neglect or exploit the vulnerable, to promote the welfare and rights of orphans, the needy and other vulnerable members of society. God requires his people to act justly, to love mercy and walk humbly with God (Micah 6:8).
Sheikh Said reflected on the teachings of the Quran as they relate to care for orphaned and other vulnerable children and rights of children. According to the Quran, children have a right to a good name; religious and secular education; food and clothing; and a right to good health.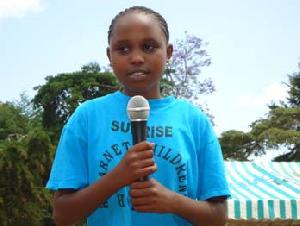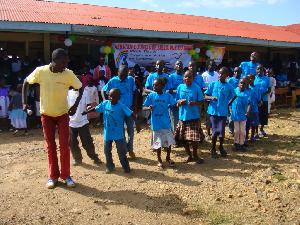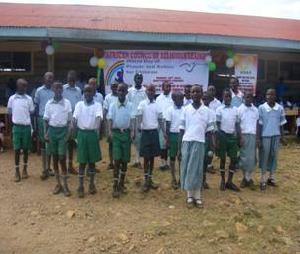 Activity 2: Issuing of school uniforms
A total of 46 Children from poor backgrounds earlier identified, were issued with school uniforms.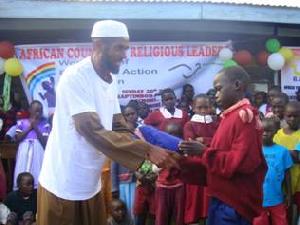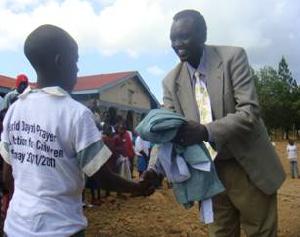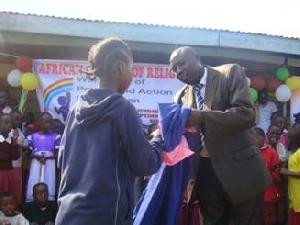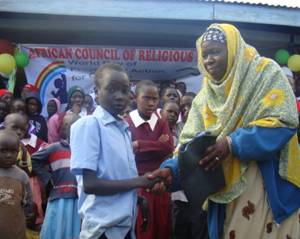 Religious and local leaders' present school uniforms to children
Activity 3: Launching of Ethics and Peace Clubs
The launching of Ethics and Peace Clubs involved eleven primary schools. Each school identified a patron and two pupils to lead the club. The teams were prayed for after a brief description of the Learning to Live Together; an Intercultural and Interfaith Program for Ethics Education and how it should be used.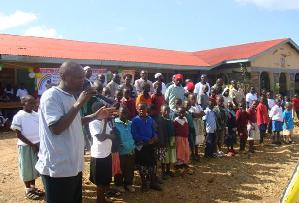 Selected pupils (middle row) to lead Peace clubs in schools, those to receive uniforms (front row) and leaders (back row) stand to receive a spiritual blessing
Activity 4: Tree planting
The teachers, religious and local leaders each planted trees at the Kaptimbor Primary school grounds to mark the World Day of Prayer and Action for Children.