World Day of Prayer and Action for Children was celebrated in Kenya at Soweto Baptist primary school, Kibera
Approximately one hundred and eighteen and one hundred and fifty nine parents and children respectively took part in celebrating the World Day of Prayer and Action for Children on November 20 th at Soweto Baptist primary school in Kibera.
Parents got to interact with facilitators from the Center for Rights Education and Awareness (CREAW) and the Government of Kenya's Department of Civil Registrations.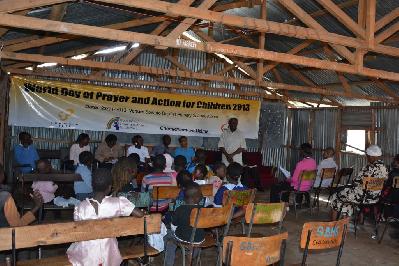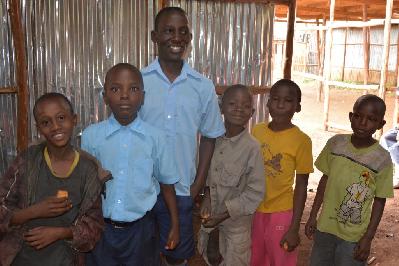 The facilitators from CREAW educated and gave informative talks on:
Positive Parenting
• Parenting as a responsibility of both parents
• Need for parents to interact with children and know what they are up to as well as monitoring their activities and stuff they carry around.
• Hands-on, supportive parenting and avoiding absenteeism.
• Avoiding authoritarianism and embracing dialogue.
• Adoption of positive language as it influences children's attitudes and communication.
Early Child Marriages
Some of the causes and effects were discussed as follows:
• Poverty
• Cultural practices
• Authoritarian parenting
• Continuity of the poverty cycle: uneducated parents = uneducated children.
• Biological complications from the reproductive system e.g fistula.
• Socio-economic challenges: dependency on husbands, creating room for domestic violence.
Birth Registration
This proved to be the most pressing issue within the community. The top challenges identified were:
• Lack of awareness on processes and procedures for birth registration.
• Lack of awareness on rights citizens have to access the registration office, leading to exploitation by middlemen, especially financially.
• Inaccessibility of the registration office for the Kibera community due to distance.
• High cases of home births and births at unregistered clinics, robbing parents of the opportunity to get birth notifications. These notifications assist in the acquisition of birth certificates in the most efficient manner.
• Increased cases of underage pregnancies from promiscuity and rape cases.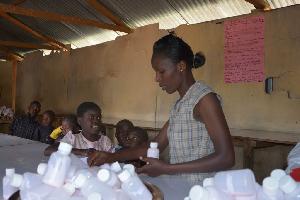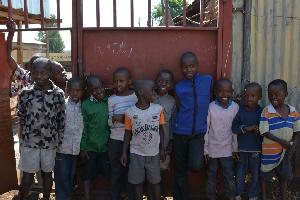 Children taking part in fun and activities A nurse giving medicine to children Children from Soweto Baptist Primary school
The event was concluded by encouraging parents to educate their children and the community at large so that they can be aware of the negative consequences early child marriages, benefits of positive parenting and the importance of birth registration.
In addition, the Nairobi office will follow up on this issue by arranging for a mobile registration exercise to assist the Kibera community in acquiring birth and death registration certificates.