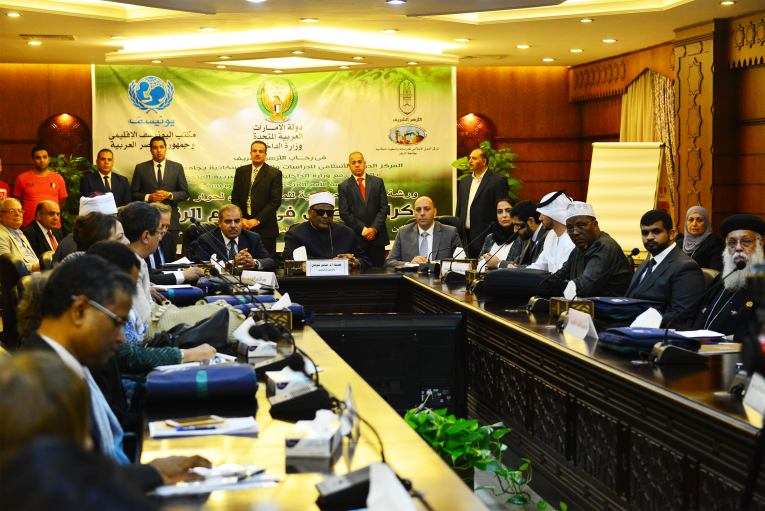 Sh. Ibrahim Asmani Lethome, Arigatou International Advisory Group Member, attended a workshop hosted by Al-Azhar University and sponsored by the Government of the United Arab Emirates in Cairo, Egypt on 4th June 2018. The workshop themed, "Protecting the Child's Dignity in the Digital World," was attended by religious scholars from the Muslim and Christian denominations, government representatives, diplomats, medics, students and relatives of victims of violent extremism. The United Nations Children's Fund (UNICEF) was also represented by her North Africa Regional office with the event being graced by Prof. Abbas Shuoman, special representative from the office of the Grand Sheikh of al-Azhar.
The workshop aimed at analyzing the global context of radicalization and violent extremism and its effects on children and youth. Participants sought to identify sustainable solutions towards preventing violent extremism and ultimately ending violence against children and youth.
In his remarks, Prof. Shuoman, stressed the urgent need for regulating the use of the internet among children and youth explaining that it is the main channel for radicalization, where extremist groups exploit and recruit thousands of children and youth into their sect. Despite the many benefits, the internet possess great risks. According to him, the process of de-radicalizing the youth and decongesting the internet is not an easy task and requires joint efforts from religious institutions, governments, international and grassroots organizations, professionals and the entire community to prevent violent extremism.
Participants noted that North Africa and Middle East are the leading users of internet and girls are the most vulnerable. Thus, the community through religious leaders and institutions should ensure that children are free from ICT related violence. They resolved to create safe spaces for children both online and onsite that will bar them away from exploitation and abuse.
"Whereas the community cannot tell what will happen in future but they can tell how the future will be by looking at what the child is exposed to today." – UNICEF
In its efforts to combat violent extremism, Al-Azhar University mentioned that it has written several books on protection of children against online exploitation including, "A Child is Half of the Present and the Whole of Tomorrow." The university averred that professionals engaged in ending violent extremism should also focus on shaping the behavior (Tarbiyah) of children because behavior plays a big role in modeling a person's appearance.
In his comments, Sh. Lethome stressed that the community has a duty to come up with appropriate interventions towards protecting the future generations. He shared the Panama Commitments on Ending Violence Against Children agreed upon during the GNRC 5th Forum in May 2017, which he actively participated. The 10 Panama Commitments pledged by participants from seventy (70) countries, aim to promote and eradicate any form of violence against children.
Sh. Lethome shared some of the resources developed by GNRC and its partnering organizations including the Community Resilience Against Violent Extremism (CRAVE) Resource Guide and Building Resilience Against Violent Extremism (BRAVE) Manual. He added that GNRC also partners with international and grassroots organizations to sensitize communities on sustainable peace and development. He also pointed that GNRC holds fora with religious leaders, government representatives and professionals on matters of preventing violence against children in all its forms.
Concluding the workshop, participants resolved to put the knowledge acquired into use by implementing it in their various capacities.