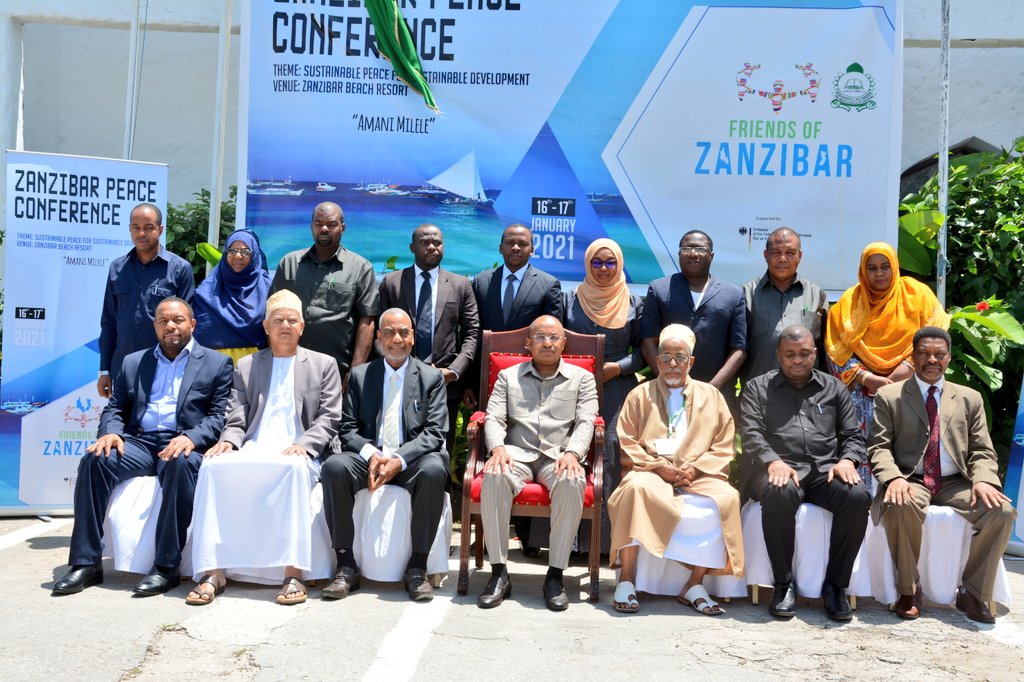 FRIENDS OF ZANZIBAR
2ND ZANZIBAR PEACE CONFERENCE
Sustainable Peace for Sustainable Development:
16th January 2021
H.E. President of Zanzibar, and Chairman of the Revolutionary Council, Dr. Hussein Ali Mwinyi,
H.E. The First Vice President of Zanzibar, and Chairman, ACT Zanzibar, Maalim Seif Sharif Hamad,
H.E. the Second Vice President, Hemed Suleiman Abdallah,
Grand Mufti of Zanzibar, Sheikh Saleh bin Omar Kaaby,
Secretary General, Friends of Zanzibar, Abubakar Francis,
It gives me a lot of pleasure to share a word with you on this auspicious occasion of the 2nd Zanzibar Conference organized by the Friends of Zanzibar.
But I am also very sad today, as I am not able to be with you physically, due to unavoidable circumstances.
Zanzibar is the one place that I hold very close to my heart. The tranquility, the loving and welcoming people of Zanzibar are a blessing to Zanzibar, and Tanzania.
I recall vividly the First Conference in 2015 organized by the Friends of Zanzibar, under the able leadership of a dear brother and a mentor, Abubakar Francis.
Then, we discussed how best to achieve sustainable peace in the Islands of Zanzibar.
I want to applaud the selfless efforts, and sacrifices made by especially two leaders, Dr Hussein Ali Mwinyi and Maalim Seif Sharif Hamad for the sake of peace in Zanzibar.
Our entire region is today suffocated by conflicts: Somalia, Sudan, South Sudan and lately Ethiopia.
We thank the Almighty God for giving Zanzibar selfless leaders that have over the years prevented and avoided conflicts.
For this, only Allah will reward you. Allah says in the Glorous Quran in Sura An-Nisa: 'W 'as-sulhu Khair' – Peace if Best for you.
Kwa Ujasiri wenu, viongozi wa Zanzibar, mumeitoa visiwa hivi katika mawimbi ya migogoro, na kuviweka katika utakatifu wa Amani.
Naomba kurudisha shukrani zangu za dhati, kwako Mheshimiwa Rais Dr Hussein Mwinyi, na Naibu wako Maalim Seif Sharif Hamad kwa kuhudhuria hafla hii, na kuleta Amani visiwani Zanzibar. Mola awajaalie Maisha marefu na siha njema.
Shukrani kwa wote kutoka nchi zaidi ya kumi na tatu waliofika hapa leo kuhudhuria kongomano la pili la Marafiki wa Zanzibar.
Mungu Aibariki Zanzibar. Mungu Aibariki Tanzania.
Dr. Mustafa Y. Ali,
Chairman, Friends of Zanzibar, and
Secretary General, Global Network of Religions for Children (GNRC).