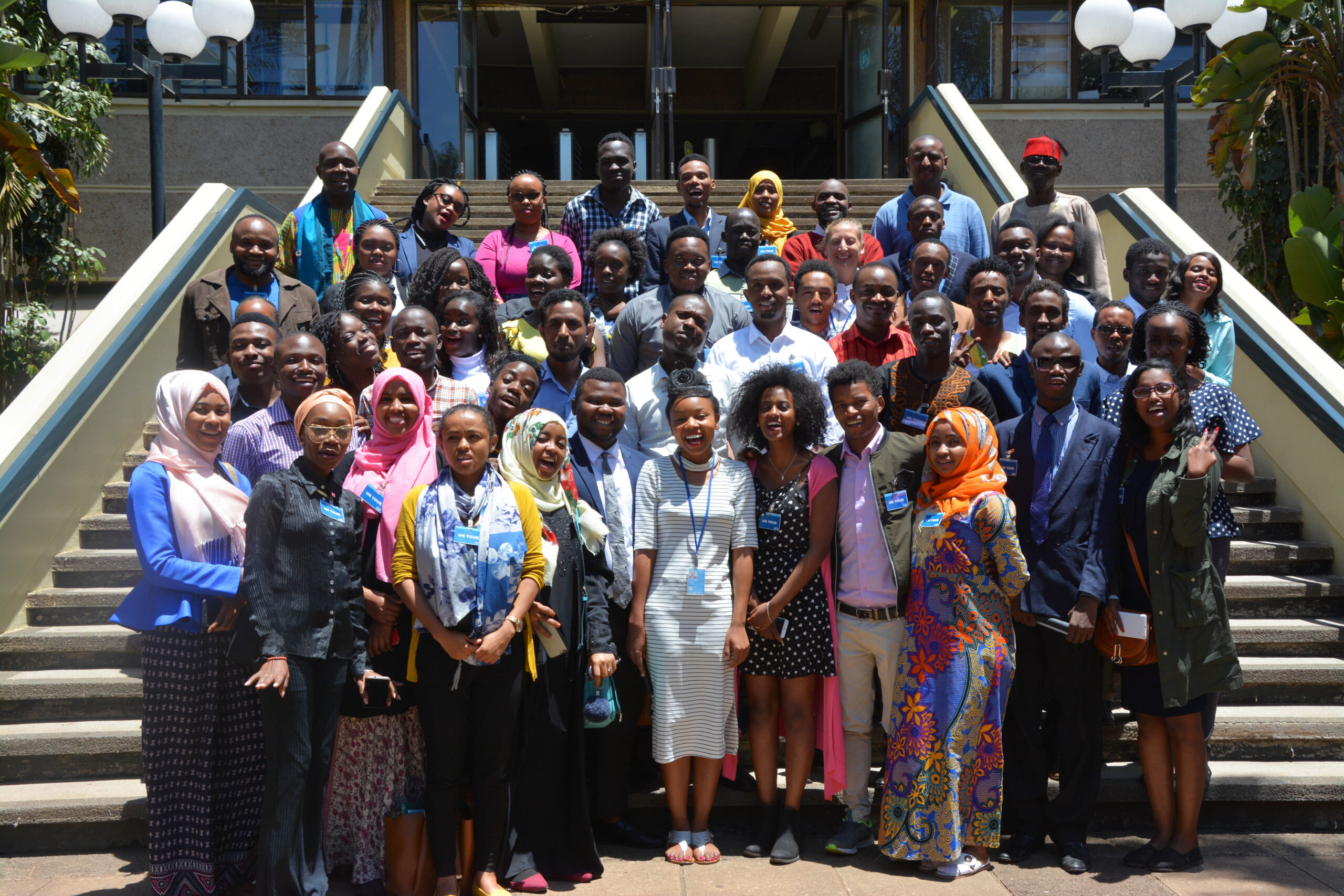 "Every child has the right to survive and thrive in life. As a community, we owe them that – a life free of violence. It is possible through safeguarding our media platforms against radicalization and violent extremism." This was echoed throughout the Youth In Action – 3rd Regional Youth Forum on Peacebuilding held on 3rd – 8th September 2018 in Machakos, Kenya. Sixty four (64) participants including youth leaders and youth influencers attended the youth-led event under the theme, 'Media and Preventing Violent Extremism.' The youth benefited greatly from facilitators and experts in the area of peace, partners, resource persons and Arigatou International – Nairobi staff. Participants were drawn from Eastern Africa region specifically Ethiopia, Kenya, Somalia, Sudan, South Sudan, Uganda and Tanzania.
The forum aimed to build the resilience of youth and their communities against violent extremism, with a view to promote sustainable peace in the region. More specifically, Arigatou International – Nairobi in partnership with Norwegian Church Aid are working to equip young people with media knowledge, skills and tools to prevent, counter and transform violent extremism fuelled by the use/misuse of religion in the region. The Youth In Action 2018 also emphasised on interfaith dialogue, community empowerment through media, and youth peace education towards preventing, countering and transforming violent extremism.
Through this year's forum, participants had the opportunity to learn more about the role of media in preventing, countering and transforming violent extremism (P/C/TVE), share lessons learned through their on-going grassroots work in P/C/TVE and exchange progress updates and strengthen cooperation among the network of youth leaders and practitioners working towards peace in the region. The youth leaders also developed their 2019 plans of action for sustained youth engagement in P/C/TVE.
During the meeting, participants were informed that protagonists of violent extremism are heavily spread throughout the Internet. However, it was explained, "actual violent radicalisation is not reducible to Internet exposure, but generally entails the mediation of several complex processes, including complex social-psychological processes and person-to-person communication in conjunction with other offline means.
The Arigatou International Advisory Group Member, Sh. Ibrahim Lethome, informed the participants that radicalisation to violence and violent extremism are driven by multiple factors, hence the approach to prevent, counter and transform violence and violent extremism requires a multiplicity of interventions – including the use of media and empowering faith leaders to counter violent extremist narratives. It was noted that all forms of extremism have become more globalised, exploiting the opportunities of a more interconnected world – including the Internet and other forms of media. Thus, youth agreed that violence has no religion and those who commit the crimes only use religion to form basis for their actions.
The Secretary General of the GNRC, Dr. Mustafa .Y. Ali, emphasized to participants the need to enhance interfaith communication so as to achieve interfaith harmony, in which people from different faiths can engage in cooperative, constructive and positive interactions. He noted that effective communication across faiths helps members of the other faiths to know an individual and allow them to come to a mutual understanding. Dr. Ali advised the youth as message carriers that they should denounce radicalization and violent extremism across all media platforms and sensitize the community, through the knowledge acquired, to build their resilience on the issue. He reiterated that all religions promote and practice peace and the youth should not be lured with any alternative narrative that advocates for violence.
The Director, End Child Poverty, Rev. Fred Nyabera, highlighted that Arigatou International's focus on young leaders stems from the recognition that young people have a central role in shaping the society. He encouraged the youth to work hand in hand with the network so as to shape the lives of children and youth in the Horn of Africa and Great Lakes region. Rev. Nyabera encouraged participants to concentrate on issues that unify the community and religions rather than issues than divide them.
The 2018 Youth In Action forum encompassed training sessions, youth-led discussion groups, reflective sessions, global cafés, plenary presentations, a practicum on designing a media intervention to P/C/TVE and a seminar based on the forum's theme.
Noting that the Regional Peace Program (RPP) was part of GNRC's Community Resilience Program, commonly referred to as the CRAVE Program, Dr. Dorcas Kiplagat encouraged all participants to join the GNRC, so as to build synergy in tackling violence against children in all spaces. She encouraged the participants to make use of the Interfaith Resource Guide for Preventing and Countering Violent Extremism, developed by GNRC, End Child Poverty and Goldin Institute, to guide their work.
The Regional Peace Programme (RPP) is a 5-year (2016 – 2020) peace building process initiated by the Norwegian Church Aid (NCA) and her nested partners; the All Africa Conference of Churches (AACC); the African Council of Religious Leaders (ACRL); Arigatou International—Nairobi (AI—N); The Fellowship of Christian Councils and Churches in the Great Lakes and Horn of Africa (FECCLAHA); and the Hekima Institute of Peace Studies and International Relations (HIPSIR). RPP covers 12 countries in the Great Lakes and Horn of Africa region; Burundi, the Democratic Republic of Congo (DRC), Djibouti, Eritrea, Ethiopia, Kenya, Rwanda, Somalia, Sudan, South Sudan, Tanzania and Uganda.
Within the Regional Peace Programme (RPP), Arigatou International—Nairobi (AI—N) focuses on initiatives to Prevent, Counter and Transform Violent Extremism (P/C/TVE) through which encompasses youth engagement; research and knowledge dissemination; faith-based narratives to P/C/TVE; and support of platforms that prevent and counter violent extremism. More specifically, our youth engagement consists of the Youth In Action regional forums and youth-led peace projects to P/C/TVE at grassroots and regional level.
It is well known that young people are players in building peace and addressing the key driving factors of conflicts in the region including poverty, unemployment, corruption and poor governance. Young people are both peacemakers and aggressors of conflict. The peacebuilding trainings offer urgent and immediate interventions that aim to benefit the young people towards a peaceful and harmonious society.