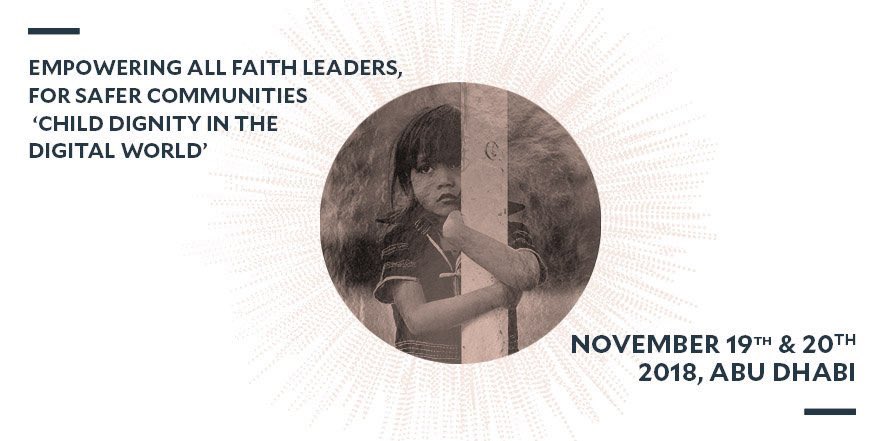 Under the patronage of His Highness Sheikh Mohammed bin Zayed Al Nahyan, Crown Prince of Abu Dhabi and Deputy Supreme Commander of the United Arab Emirates (U.A.E) Armed Forces, the U.A.E will host the first edition of the Interfaith Alliance For Safer Communities Forum on 19th – 20th November 2018 in recognition of the country's leading role in promoting tolerance and interfaith dialogue.
The forum will host 450 guests including religious leaders, representatives from International and grassroots organizations, governments, faith inspired organisations, peace practitioners and heads of industries and business entities to discuss the world's social challenges and develop comprehensive solutions for protecting children and youth from online exploitation and cybercrime.
The Interfaith Alliance for Safer Communities will seek to unify and mobilize the world's religious leaders to promote the safety of society, through unified dialogue and peaceful action. Through a global program comprising of workshops, research, a forum and on-going community outreach, the Interfaith Alliance For Safer Communities will seek to achieve three key goals: To reach, inform and involve people of Faith around the world; To create productive dialogue between faith leaders on challenges facing international communities; and to mobilize global action by faiths, to encourage constructive dialogue and partnerships among their communities.
The Interfaith Alliance For Safer Communities Forum is an expansion of the Child Dignity in the Digital World Congress, which was held in October 2017 in the Vatican that resulted in the "Rome Declaration" endorsed by Pope Francis. During the congress, U.A.E was recognized for its reputation for tolerance, and was asked to host an international forum to highlight its commitment to promoting interfaith dialogue. These efforts resulted in the formation of the Interfaith Alliance For Safer Communities.
Several international pre-workshops have been conducted in different countries including Cairo, Egypt; Nairobi, Kenya; Manila, Philippines; Santo Domingo, Dominican Republic; and New Delhi, India, culminating in the Interfaith Alliance Forum in Abu Dhabi, U.A.E. The pre-workshops highlighted the key topics that will be discussed during the forum.
The invite-only forum is supported by several global organizations including Al Azhar University, Arigatou International, Global Partnership to End Violence Against Children, Gregorian University, International Justice Mission, Religions for Peace International, Shanti Ashram, The Center for Child Protection of the Pontifical, The Child Dignity Alliance, UNICEF, WePROTECT Global Alliance and World Vision International.
The forum's second day, which coincides with the Universal Children's Day and the World Day of Prayer and Action for Children will focus on a "call to action" at Wa'hat Al Karama, led by Prof. Dr. Ahmad Al Tayyeb, Grand Imam of Al-Azhar and President of the Muslim Council of Elders; His All Holiness Patriarch Bartholomew, Ecumenical Patriarch of Constantinople of the Eastern Orthodox Church; His Holiness Pope Tawadros II of Alexandria; Rabbi Michael Schudrich, Chief Rabbi of Poland; Bhai Sahib Bhai Dr. Mohinder Singh OBE KSG, Chairman, Guru Nanak Nishkam Sewak Jatha; Rev. Keishi Miyamoto, Leader of Myochikai; and Her Holiness Mata Amritanandamayi Devi, Hindu Spiritual Leader.