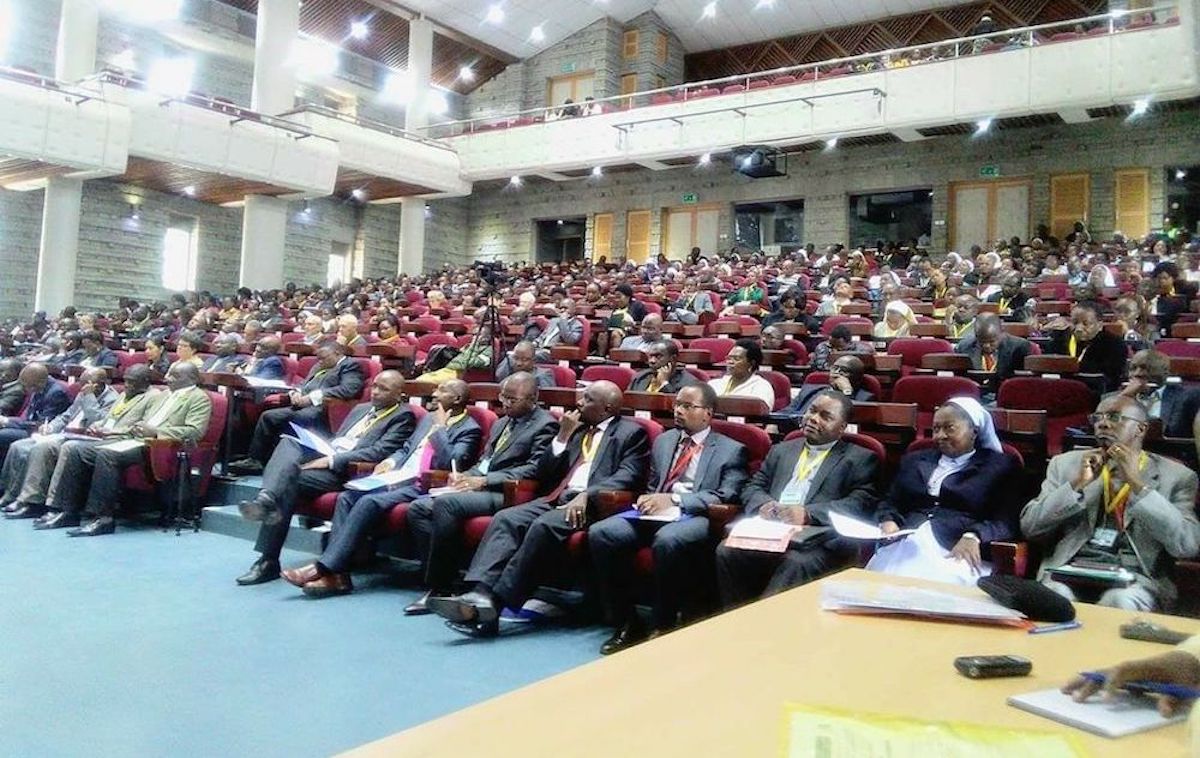 The Catholic University of Eastern Africa (CUEA), Nairobi, in collaboration with Globethics.net Foundation and Arigatou International hosted a four-day training workshop from 13th to 16th March 2018 to integrate ethics into higher education and teacher education. The worshop dubbed, "Integrating Ethics in Higher Education: Transformation of Catholic University of East Africa (CUEA) – Faculties and Programmes – To Achieve Global Competitiveness," took place at the University's Lang'ata Campus.
Over 30 facilitators conducted the training of more than 180 participants made up of teachers, supervisors and administrators.
The workshop was driven by the need to ensure that institutions of Higher Learning adhere to the highest ethical standards possible, and to build an ethos on their campuses, among teachers, students and administrators that inspires trust, credibility and hard work–all aimed at developing in students a value-driven character, for good citizenry and leadership.
The workshop sought to answer some pertinent and ethical questions such as:
Why be ethical?
Understanding ethics in both the normative and empirical aspects
Pathways to developing a positive work ethic in the University
Identifying and solving ethical issues in teaching/supervision
Creating sound supervisor/supervisee relationships
Handling cases of intellectual dishonesty and unethical research practices
Developing teaching skills in and knowledge of ethics
Inculcating team spirit in research and publications
Research leadership skills for teachers and students
Updating knowledge about research quality and design
Accessing research funding opportunities
Data and information management
Financial sustainability and practical steps to being competitive in a global environment
In her Good Will message, Dr. Dorcas Kiplagat, who represented Arigatou International – Nairobi, thanked CUEA for taking the lead in ensuring ethics is part of the curriculum in institutions of higher learning. She spoke highly of 'Patristic Education', one of the Course Units offered at CUEA, which she said greatly impacted her thinking on work and service. The course, among other things, accords students the opportunity to reflect on their role in achieving an equilibrium between God's Laws, Natural Laws and Human Laws, warning that an imbalance of the three risks destabilizing life on earth. Click here to view Dr. Kiplagat's presentation.
The Catholic University of Eastern Africa (CUEA) is a Founding Member of the Globethics.net Consortium on Ethics in Higher Education. The Ethics Education for Children (EEC) initiative of Arigatou International works closely with Globethics.net Foundation. Mr. Suchith Abeyewickreme, a consultant with EEC, was a trainer at the workshop.
Dr. Kiplagat also held discussions with Mr. Abeyewickreme on strengthening the GNRC in Sri Lanka and ultimately the South East Asia Region. It was noted that most countries in the region did not have GNRC committees – something that Suchith offered to assist, working closely with the GNRC Coordinator in Sri Lanka, Ms. Yamuna Balasooriya assisted by Ms. Kavitha Vijayaraj. The process of establishing Committees would start with Sri Lanka, and this committee will be launched during the Asia Regional Meeting, expected to take place in July 2018. GNRC–Sri Lanka will then serve as a model for other countries in the region.