By Lynette Lee CorporalHIROSHIMA, May 24 (IPS) – Renewing solidarity and respect for the fundamental rights of children, over 1,300 religious leaders of different faiths, grassroots workers, and decision makers from about 60 countries are gathered in this historic Japanese city to give the younger generation a much-needed 'voice'.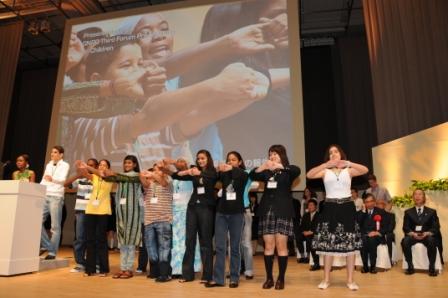 In return, 42 children aged 13 to 18 have expressed their willingness to take the Global Network of Religion for Children's (GNRC) goal of solving the three major problems of violence, poverty and environmental degradation that affect the world's youth population back home and spread the word.
Thus, the GNRC's Third Forum, set for closer cooperation between the two generations, kicked off Saturday with the theme "Learning To Share: Values, Action, Hope".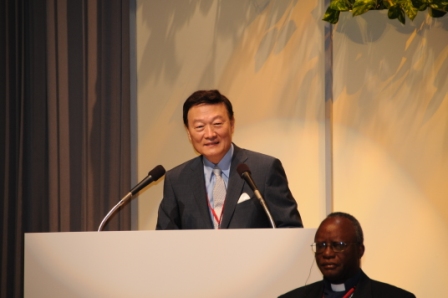 "We will seek to strengthen our commitment to children and also to map out strategies to expand the GNRC alliance specifically in the three major ethical imperatives to end violence, poverty and empower the world's 2.2 billion children to protect the planet," said Samuel Koo, chairman of the GNRC Third Forum Organising Committee and South Korea's ambassador for cultural cooperation at the opening session of the forum, which ends May 26.
Established in 2000 by the Arigatou Foundation with the aim of building a better world for children, the GNRC is calling on all religious leaders, government and non-government organisations (NGOs) to renew their pledges to help make a better world for the children.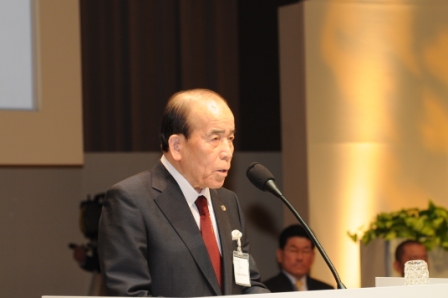 "We hope everyone will renew the search for peace and do all we can for the children. The passion in your hearts is the driving force for the realisation of our goals today. We're here because we have done something and we will do more," Rev. Takeyasu Miyamoto, president of the Arigatou Foundation, a non-government organisation which has consultative status with the United Nations Economic and Social Council.
The Forum venue could not have been more apt. According to Miyamoto, the conference was held in Hiroshima "so we can all have an opportunity to reflect on the true values of life". On Aug 6, 1945, Hiroshima was destroyed by an atomic bomb which killed more than 140,000 people. More than 60 years later, the city has become a symbol for peace, with visitors trooping to 'ground zero' where the Hiroshima Peace Memorial can be found.
In recent years, Hiroshima has been recognised for its implementation of a development plan for children, which seeks to promote and provide a comprehensive system of childcare.
"Children today are threatened by terrorism, hunger, poverty, as well as criminal activities on the Internet. To solve these problems, we need to work together. We appeal to the world to abolish nuclear weapons and give children a better future," implored Hiroshima City Mayor Tadatoshi Akiba.
Forum participants all share the goal of giving back the fundamental rights and dignity to the lives of children by seeking new approaches and new ways to foster a better understanding between generations, religious beliefs and culture.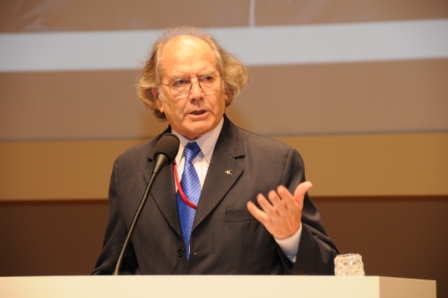 "We need to bring down the walls of intolerance, hunger, war, illiteracy that are threatening children's lives. We must join the children in finding new ways, new roads to build a new humanity," urged Nobel Peace Prize laureate Adolfo Perez Esquivel, who is also the president of the Argentina-based Servicio Paz y Justicia (Peace and Justice Service), an organisation working in support and defence of human rights.
The GNRC prides itself on giving children a venue to express themselves. As it encourages dialogues among nations, it is also for an open interaction with children. Thus, the two-day workshop and pre-forum meeting culminated in the children sharing what they learned with their adult counterparts during the opening ceremonies.
For pediatrician Dr. Vinu Aram, the work for peace has to transcend generations. "We have to start listening to the children because they can be wonderful leaders in reconstructing our community," she said.
"Our work for peace has to go beyond generations. Creating spaces of trust is important especially in the grassroots level.
Former Iranian vice-president and Institute for Interreligious Dialogue president Seyed Mohammad Ali Abtahi, likewise, urged political and religious leaders to "learn patience from the children".
The children are our history and they have an amazing closeness with the divine. Our children's (concept of) God is more real, more intimate. They share a close similarity with philosophers because they pay attention to everything and know how to give respect. They consider themselves a part of a larger community without losing their own identities," he said.
In a message read out by Rev. Father Pietro Sonoda, Cardinal Jean Louis Tauran of the Vatican's Pontifical Council for Interreligious Dialogue reminded participants to also support the parents who need all the help they can get to nourish and educate their children.
"It is in the family environment that children are first nourished with love and care, which they in turn learn to show others," he said.
The highlight of the Third Forum, held every four years since 2000, is the launch of "Learning to Live Together: An Intercultural and Interfaith Programme for Ethics Education", a manual for educators and youth leaders to promote peace and understanding among children of different faiths and culture.
According to Agneta Ucko, Arigatou Foundation's Geneva director, the manual is not meant to teach religion or cultural history. Instead, it is a toolkit to bridge the gap among the youths of today.
"The challenge for us now is how this manual be implemented worldwide and used in various settings including schools, peace clubs and youth groups, to name a few.
Participants agree that still more challenges lie ahead, no thanks to the lack of cooperation among institutions including the government and religious organisations.
According to Ucko, in the process of developing the manual, they faced several challenges including how children relate to the different scriptures, the different concepts of 'God', and the discussion about good versus evil, to name a few.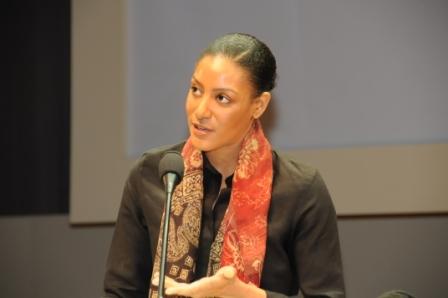 UNICEF spokeswoman on violence against children, Sarah Jones, in a skit that poked fun at some of these institutions, noted that ''most of our religions have fallen short of these ideals at one point or another" and questioned the inaction at a governmental level.
"We must remind governments that poverty, environmental degradation and violence are not only human rights issues but global security issues. The urgency of these issues is real," she said.
Like many others, she is optimistic that these issues can be solved and that "all violations against kids are preventable". Human rights, she said, should be the foundation of every faith-based institution.
(END/2008)