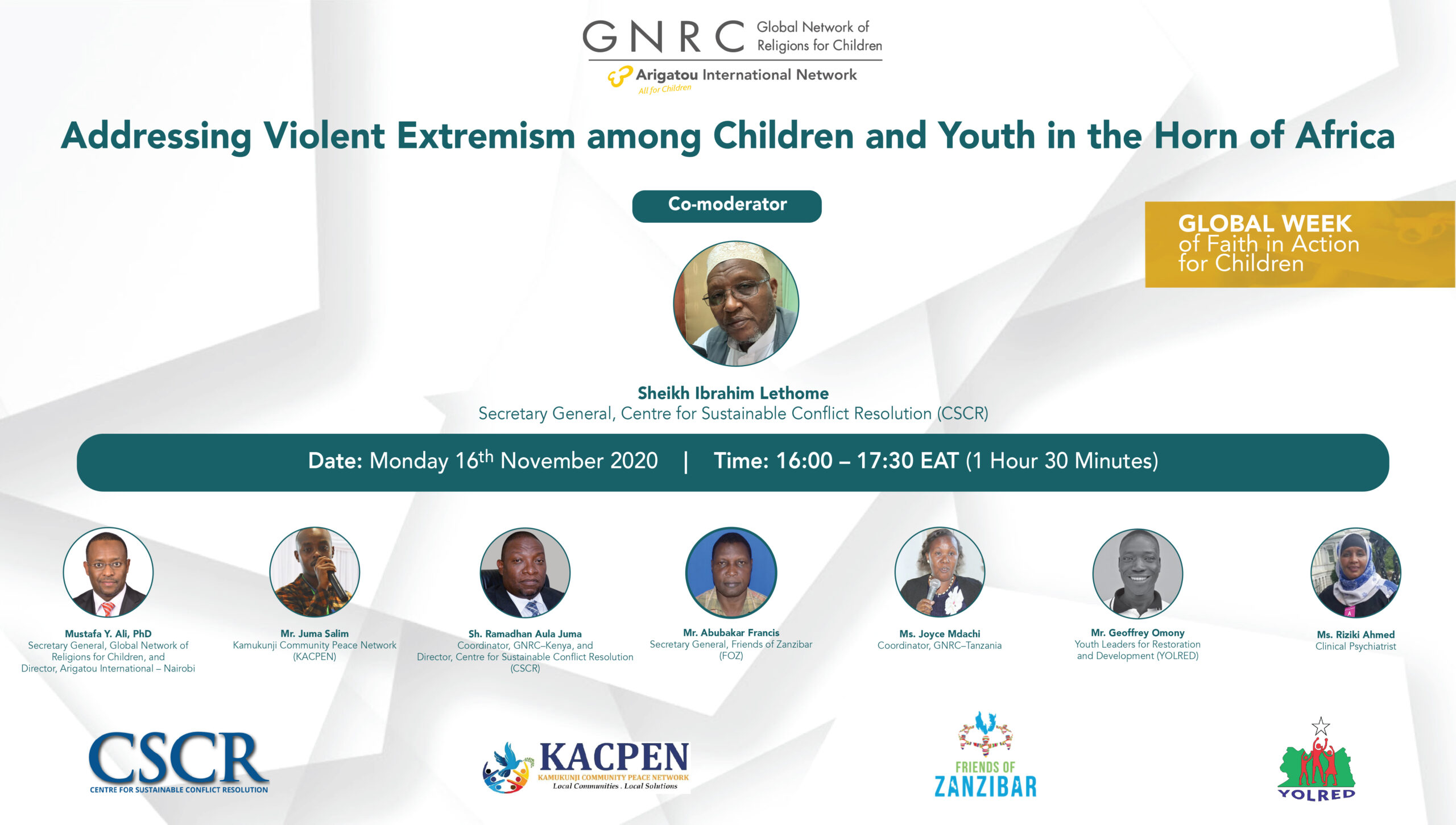 Violent extremism is fast becoming a major threat to peace across the world. In the Eastern and Horn of Africa, as is the case in South Asia and Middle East, more and more young people are being recruited into violence by extremist groups and organizations. Women and girls have also been lured into terrorism.
On the occasion of the Global Network of Religions for Children (GNRC) 20th Anniversary, the Working Group on Countering Violent Extremism in the Horn of Africa organized a virtual discussion on Monday 16th November 2020 during the first day of the Global Week of Faith in Action for Children, to dissect and create more understanding on the menace. The online meeting engaged practitioners on sustainable ways to prevent radicalization and violent extremism that has affected the lives of communities in the Horn of Africa.
Member, Arigatou International Advisory Group, and Secretary General, Centre for Sustainable Conflict Resolution (CSCR), Sh. Ibrahim Lethome, moderated the session, while Dr. Mustafa Y. Ali, Secretary General, Global Network of Religions for Children (GNRC) graced the event.
Speakers at the event included: Juma Salim, a GNRC youth and Director, Kamukunji Community Peace Network (KACPEN); Sh. Ramadhan Aula, Coordinator, GNRC—Kenya, and Director, Centre for Sustainable Conflict Resolution (CSCR); Mr. Abubakar Francis, Secretary General, Friends of Zanzibar (FOZ); Ms. Joyce Mdachi, Coordinator, GNRC—Tanzania; Mr. Geoffrey Omony, Coordinator, GNRC—Uganda; and Ms. Riziki Ahmed, Clinical Psychiatrist, CSCR.
Dr. Ali observed that violent extremism had become a big challenge in the region and appreciated the efforts of the GNRC to combat it, particularly where it affects children and the young people, with the support of faith leaders, faith communities and like-minded institutions. He added that GNRC and other Arigatou International initiatives; Ethics Education for Children, Ending Child Poverty and Prayer and Action for Children, have succeeded in launching a number of projects that address the scourge including Building Resilience Against Violent Extremism (BRAVE), and Community Resilience against Violent Extremism (CRAVE) through the Working Group on Countering Violent Extremism in the Horn of Africa.
While opening the session to speakers, Sh. Ibrahim Lethome underscored the challenges associated with the emergence of COVID-19 including the increased exposure of children to online risks, such as recruitment into violent extremism and gang groups. He urged caregivers to pay attention to children's online activity so as to protect the children online.
Child poverty was identified as a precursor to recruitment into violent groups as young people are forced to support their families. More specifically, speakers noted that children are targeted since they can easily be indoctrinated because of less exposure to religious teachings. They are also easily manipulated because of their little awareness of the risks involved.
The Director, Centre for Sustainable Conflict Resolution (CSCR), Sh. Ramadhan Aula, shared that children, particularly girls, were increasingly being used as spies, message deliverers, ferrying materials, and undertaking suicide attacks. He however noted that all is not lost if the region engages young people in community activities and decision-making processes thereby tracking their whereabouts. He added that CSCR works with local community organizations and local government administration to sensitize the youth on violent extremism.
In Uganda it was noted that the Youth Leaders for Restoration and Development (YOLRED) have been successful in using music as a tool for peace and coexistence. Those who have passed through the process restore their confidence and esteem and they can make positive and constructive decisions that lead to peace and sustainable development.
As a solution to violent extremism, Mr. Abubakar Francis recommended to faith leaders to be the first teachers for young people who frequent the Internet for answers. He reflected on the African proverb that states, "It takes a village to raise a child," asserting that the community must interact with children and young people to influence their experience and ensure proper up bringing.