Rev. Harold Segura is the Colombian, Director of Ecclesiastical Relations and Faith-Based Organizations of World Vision for Latin America. He is also a Theologist, Baptist pastor and business administrator. Previously, he was a Rector of the International Baptist Theological Seminary of Cali, Colombia.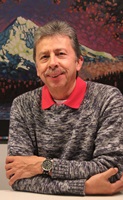 Rev. Segura completed his doctoral studies at the Javeriana University in Bogotá and is a PhD candidate at the National University of Costa Rica (Faculty of Philosophy, Literacy & Languages). He has authored several books on Christian childhood, leadership and spirituality one of them being, "Theology with the Face of Childhood".
Rev. Segura will be participating in this years GNRC 5th Forum. He will be taking part in a panel discussion focusing on Nurturing Spirituality and Ending Violence in Child Upbringing. He will be addressing the role of faith communities in this area.