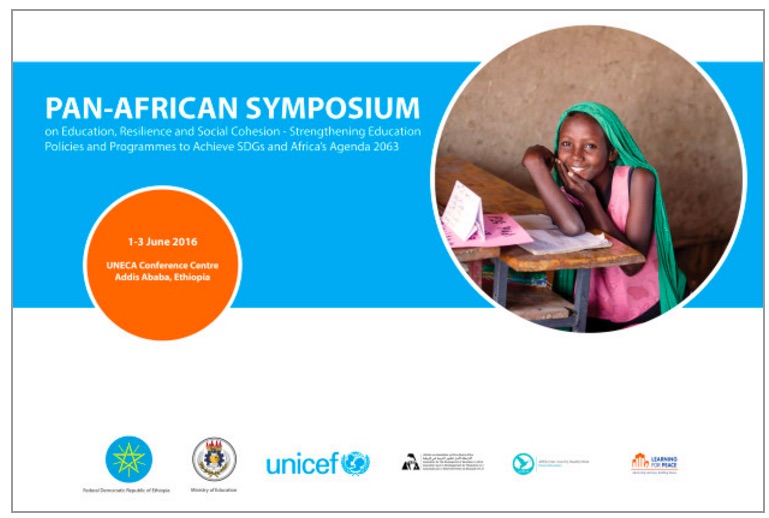 Education influences society's social, economic and political dimensions.
In the face of the global challenge posed by the spread of violent extremist ideologies, UNICEF in collaboration with a number of partners namely:- Association for the Development of Education in Africa (ADEA), Federal Government of Ethiopia, Ministry of Education- Ethiopia, ADEA Inter Country Quality Node (ICQN) on Peace Education and the 'Learning for Peace' Institute, organized a symposium that sought to assess how inclusive, equitable and innovative education policy and programmes can contribute to sustainable peace and development across the continent. The high-level Symposium, attended by Ministers of Education from 16 African countries and other education stakeholders took place between 1st and 3rd June 2016, in Addis Ababa.
The symposium had three main thematic areas: 1) The role of education in strengthening social cohesion and resilience; 2) Combating Violence through quality and education; and 3) schools for learning and for practicing peace.
As part of the Kenyan contributors, Dr. Dorcas Kiplagat, who presented on "Building Community Resilience to Prevent Violent Extremism, represented the GNRC". The presentation focused on GNRC's two programmes; CRAVE- Community Resilience Against Violent Extremism and BRAVE- Building Community Resilience Against Violent Extremism and how their implementation strategies can be utilized to impact learning.
Commitments were made at the end of the symposium aimed at strengthening education policies and programmes to achieve SDGs and Africa's Agenda 2063, notably the signing of the inter-ministerial communique and commitment to build on lessons and evidence to education policy and programmes.