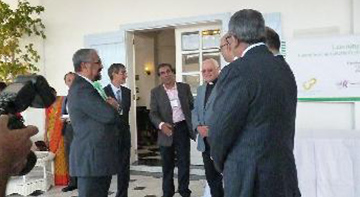 GNRC Mauritius in collaboration with the Council of Religions and the Surtee Sunee Mussulman Society (SSMS) hosted a three-day workshop in the capital city of Mauritius, Port Louis from the 12th to 14th of August.
Belall Maudarbux (middle) in the company of Mr. Cassam Uteem, former President of Mauritius (far left) and father Phillipe Goupille, president of the Council of Religions (right, next to Mr. Belall) and the directors of the Surtee Sunnee Mussulman Society
The workshop was launched by the former President of Mauritius, Mr. Cassam Uteem in the presence of the Minister of Education, Hon. Vasant Bunwaree and Hon. Abdullah Hossen, MP for the constituency.
In his opening address the Minister of Education welcomed the initiative and mentioned that he is willing to explore ways to impart the skills of Learning to Live Together in schools.
Trainers from the Arigatou International – Geneva office, led by Mr. Suchith Abeyewickreme facilitated the workshop. Participants comprised of school teachers from both primary and secondary who hail from faith based and state schools.