The Global Network of Religions for Children (GNRC) in Tanzania celebrated the Day of the African Child (DAC) on the 13th of June at the Russian Cultural Centre in Dar es Salaam three-days before the actual day on 16th of June. A Panel Discussion was organized with the theme Accelerating our Collective efforts to End Child Marriage and Pregnancies in Tanzania. Invited guests included ninety three (93) school children from Kumbukumbu, Msasani B, Oysterbay, Msimbazi, Migombani Schools and another thirteen from the International Youth Development Program (IYDP) in Ubungo accompanied by their guardians and speakers.
The discussion allowed the participants to learn and understand the effects of early marriage and pregnancy for both the female and male child and the legal stand on the same in Tanzania. Guest speakers included Mrs. Joyce Mdachi – Gender Specialist, GNRC Tanzania addressing Gender issues, Mrs. Flora Kapinga- Executive Director, IYDP addressing Health issues, and Advocate Juvenal Rwegasira – Advocate, Women's Legal Aid Centre (WLAC).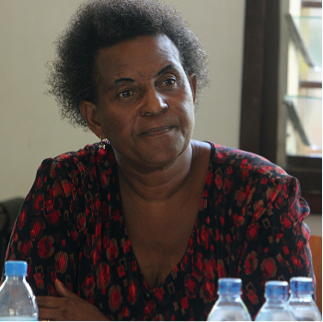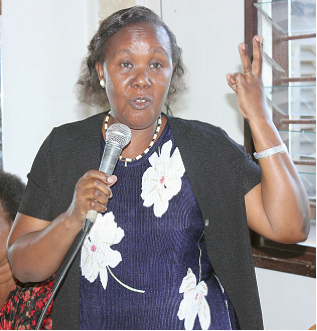 Left: Mrs. Mdachi, empowering youth on Gender issues. Right: Mrs. Kalinga, Executive Director IYDP listening to children's questions.
Guest speaker Mrs. Kalinga spoke on the rights of girls and the need for parents to educate their children on the growth stages and the importance of abstinence. While Mr. Juvenal Rwegasira focused on the gaps in the Tanzanian legal system regarding child marriage. The topics ignited a great number of questions from the participants.
In Zanzibar, GNRC commemorated the day at the Umoja wa Walemavu Centre on the 16th June with the theme Accelerating our collective effort to end child marriage in Africa. There were eighty(80) students from Mwanakwerekwe A and C, Kiembe Samaki and Vikokotoni peace clubs accompanied by their matrons/patrons. In addition, there were two (2) religious leaders, a guest from Umoja wa Walemavu, Ms. Salma Said journalist from the Citizen Newspaper and the GNRC Zanzibar Coordinator, Dr. Mohammed Hafidh Khalfan.
The GNRC Music Conscious Band entertained the gatherings with educative songs. The event was featured in two local news channels.