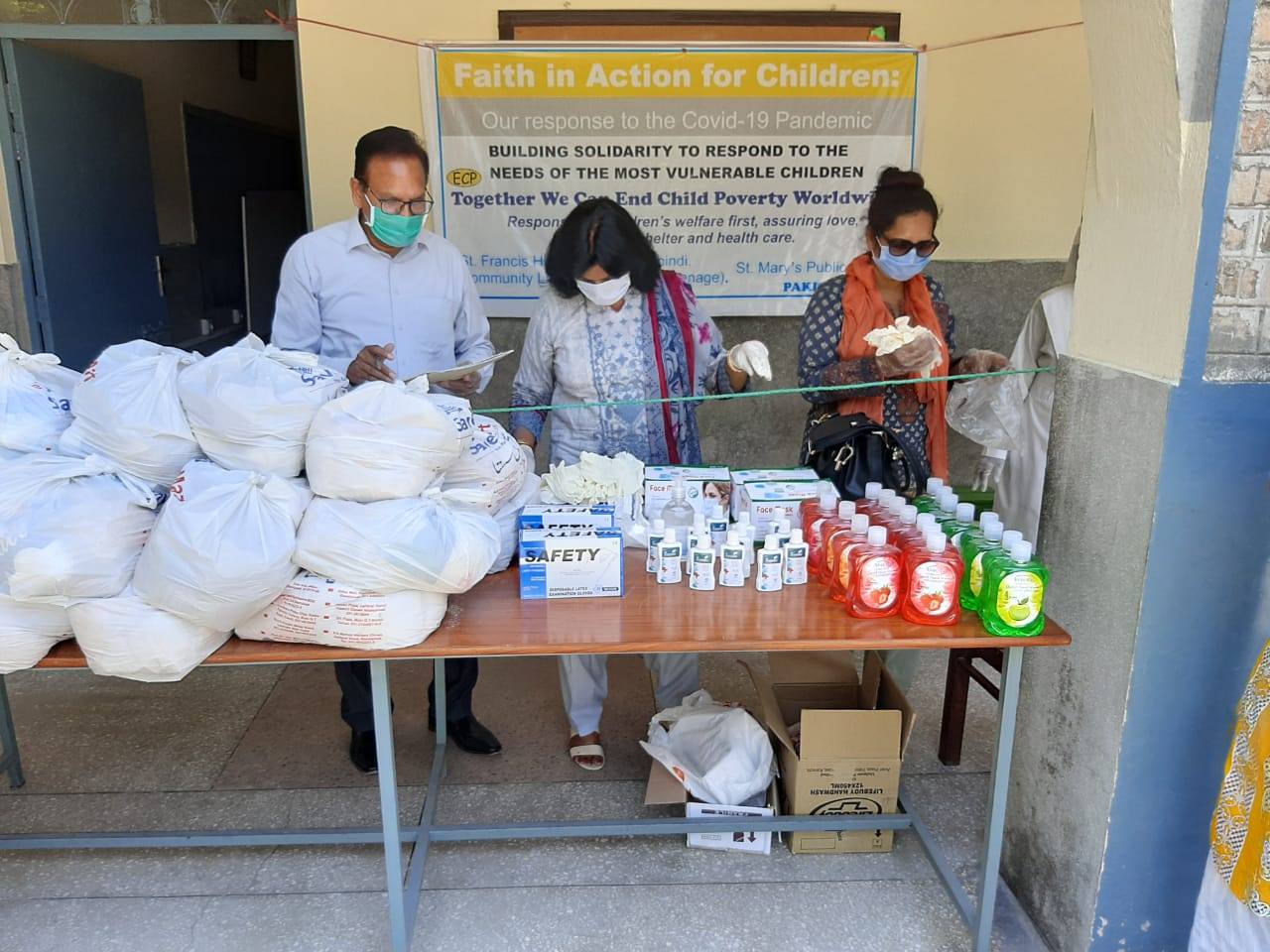 On 17th June 2020, GNRC Members St. Mary's Public School and Society for The Empowerment of People (STEP) collaborated with the Global Network of Religions for Children (GNRC) and Interfaith Initiative to End Child Poverty to distribute foodstuffs and sanitary materials to the most vulnerable communities of Rawalpindi in Pakistan including parents and caregivers as well as children and youth. The event, which reached 275 children and youth, and attended by 57 adults, was held at St. Francis's High School Rawalpindi Pakistan, a sister school to St. Mary's Public School Pakistan. The Community Life Foundation also supported the initiative.
Led by St. Mary's Public School Administrator and GNRC Member, Mr. David Paul, the initiative aimed at responding to Arigatou International's global campaign, "Faith in Action for Children: Our Response to the COVID-19 Pandemic," which aims at mobilizing interfaith efforts to increase actions in responding to the impact of COVID-19 pandemic especially on children. The campaign builds on the important role that faith plays in emergency situations to strengthen resilience, and the crucial contributions of religious leaders to positively influence millions of followers. Children and youth from the GNRC network are similarly engaged in the campaign and have shared their recommendations to leaders and their peers on the need to protect humanity against the pandemic.
Through its grassroots engagement, St. Mary's Public School is also sensitizing the wider community on how to protect themselves against the virus including observing the regulations put forth by the Government of Pakistan and the World Health Organization.
Arigatou International will continue to work with her partners and supporters to offer necessary support to children around the world at this difficult time by sharing practical resources for parents and caregivers, as well as relevant reflections and tools for faith communities, including webinars, blogs and video messages.
Click on the link to learn more about the campaign https://arigatouinternational.org/en/response-to-covid19