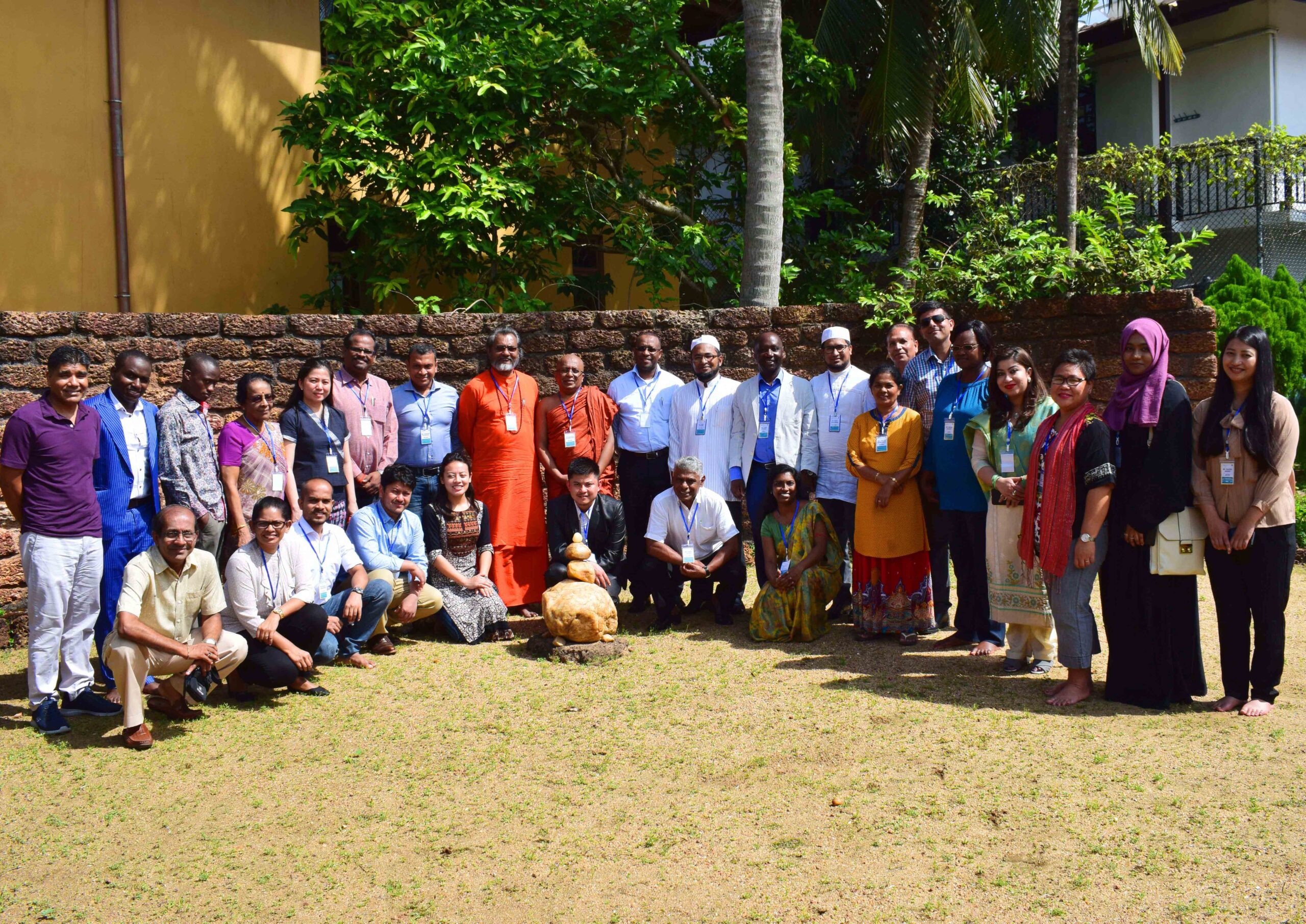 Arigatou International – Nairobi (AI—N) in partnership with Sarvodaya Shramadana Movement, organised a regional meeting in Colombo, Sri Lanka from 8th – 10th December 2018. The meeting brought together thirty five (35) GNRC members and partners from South and South East Asian countries with GNRC presence. The countries included: India, Sri Lanka, Pakistan, Nepal, Philippines, Malaysia, Bhutan and Indonesia.
The meeting aimed to build momentum to implement targeted commitments arising from the GNRC 5th Forum and encourage the implementation of End Child Poverty and GNRC's activities in South and South-East Asia.
Welcoming the participants to the three-day regional meeting, the President of Sarvodaya Shramadana Movement, Dr. Vinya Ariyaratne, commended Arigatou International's 18-year partnership with Sarvodaya in promoting peace and sustainable development. He pledged to continue strengthening the ties between the Sarvodaya Movement and GNRC Networks in South and South East Asia especially in Preventing Children from Violent Extremism, Gang Violence and Organized Crime; Nurturing Spirituality and Ending Violence in Child Up-bringing; Ending Sexual Exploitation and Abuse of Children; Ending Child Poverty and Other Child Welfare Activities; and Building and Strengthening the GNRC Network.
In her keynote address, Dr. Charika Marasinghe, a renowned psychologist and a Child Rights Advocate in Sri Lanka, shared about the role of faith communities in preventing violence against children in the region. She noted that as the world is grappling with issues of violence, many problems were still attributed to faith believes. She emphasized that the problem is everyone's responsibility and needs our every effort to end it.
Dr. Marasinghe outlined the various stages of suffering of children including virtual suffering. She explained the socio-economic reasons as to why children suffer, giving country examples and statistics in Southeast Asia. She however encouraged participants not to loose hope in the fight towards upholding peace. "There is a ray of hope in preventing violence against children and this can be achieved through creating strong, connected and resilient families, and having value based education system," she stated. She called upon all the world's religions and spiritual traditions to contribute to the global change on ending violence against children as advocated by the UN Sustainable Development Goals. "We cannot solve the problems of our children without understanding them. We need to open our hearts and minds to the suffering of our children," she concluded.
The GNRC Secretary General, Dr. Mustafa Y. Ali, acknowledged the difficult circumstances children are living in hence the need for faith communities to work together in Protecting Children. He encouraged GNRC members to share their work and best practises and seek solutions towards the wellbeing of children.
The Director End Child Poverty, Rev. Fred Nyabera, noted that extreme poverty is one of the most extensive forms of violence in the world. "Child Poverty is perhaps the most brutal and unforgiving form of all poverty," he stated. He added that poverty is the main underlying cause for millions of preventable child deaths each year. "It is also the cause of tens of millions of children going hungry, missing out on school, or being forced into child labour, with little access to shelter and health facilities," he added. "Violence Against Children (VAC) and Poverty are interlinked and it is therefore not possible to fight one without the other," he continued.
Rev. Nyabera condemned certain practices which are key underlying drivers of violence against children including the misuse of religion to propagate violence. He referred participants to the Interfaith Resource Guide to End Child Poverty as a tool that can help faith communities to mobilise faith–inspired resources to end child poverty, empower their constituencies to take action, build networks and coalitions with like-minded actors around the world and hold policy makers accountable to ending poverty in general and especially, ending child poverty.
Discussions during the regional meeting were guided by the Panama Declaration on Ending Violence Against Children and the UN Sustainable Development Goals (SDGs).
The GNRC Network and Programs Coordinator, Dr. Dorcas Kiplagat advocated for streamlining Prevention of Violence Against Children in the Asian Region to GNRC 5th Forum outcomes. She reiterated the need to strengthen the GNRC network while sharing the goals of GNRC. Dr. Kiplagat gave an example of India Poverty Solutions in responding to Panama Commitment 1 on Listening to Children and Sarvodaya Movement in fulfilling Panama Commitment 10 on working to generate greater social and political will.
She noted that forms of violence against children were unique for every region hence the need for each region to respond uniquely. Dr. Kiplagat cited two programs; the Building Resilience Against Violence Extremism (BRAVE) and the Community Resilience program (CRAVE) in the Eastern and Horn of Africa which are intrafaith and interfaith peace-building programs whose objectives are to prevent violent extremism and transform conflicts in which mostly young people are involved in the region. A representative from the Hindu Women Association also gave the example of their own 'brush and paint' program that seeks to address the issue of corporal punishment in schools- a response to Panama Commitment No. 4 and 8.