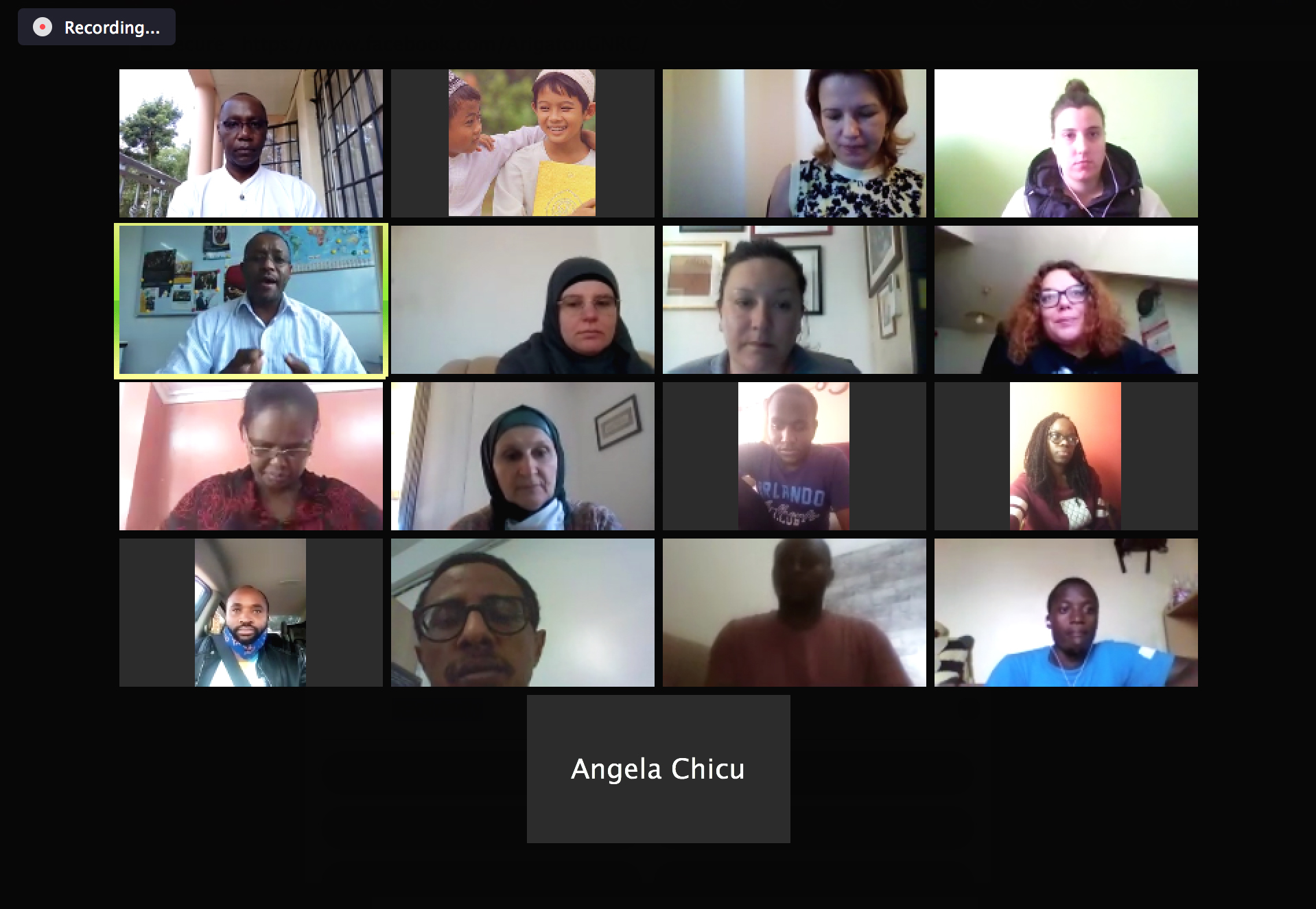 Led by the GNRC Secretary General, Dr. Mustafa Y. Ali and Director Interfaith Initiative to End Child Poverty, Rev. Fred Nyabera, GNRC held its quarterly regional meetings with its coordinators and contact persons in the month of April 2020. The four online meetings comprised members from Asia, Europe, Middle East and Africa regions.
The meetings were an effort of the GNRC to touch base with members regarding their grassroots activities and the situation of COVID-19. It discussed the effects of COVID-19 on children and some of the responses from faith leaders and GNRC members in their specific countries.
During the virtual sessions, the GNRC Secretary General, Dr. Mustafa Y. Ali, noted that due to the COVID-19 pandemic, the organization has resorted to working online and at home. Dr. Ali was keen to know how members were faring on amid the pandemic. He also requested members to consider revising their 2020 activity plans especially in the context of COVID-19.
In his remarks, Rev. Nyabera applauded the members for their work and assured them that Arigatou International will to stand with them in solidarity at different levels especially during the tough times. He emphasized the need to learn from one another, support each other and work with others. He stated that Arigatou International would provide support and accompaniment throughout this period. Rev. Nyabera briefly noted how the pandemic had affected children physically, mentally, spiritually and emotionally thus the need to adopt and think how to help children cope and respond to pre and post COVID-19 circumstances.
The GNRC Network and Programmes Coordinator, Dr. Dorcas Kiplagat shared about the Arigatou International's global campaign on, "Faith in Action for Children: Our Response to the COVID-19 Pandemic," which calls on religious leaders and religious communities to increase their actions in response to the impact of COVID-19 pandemic on children. She added that the campaign builds on the important role that faith plays in emergency situations to strengthen resilience, and the crucial contributions of religious leaders to positively influence millions of followers. Dr. Kiplagat informed members that Arigatou International staff will be reaching out to the coordinators to sensitize them on the campaign.
Members shared their grassroots efforts to contain COVID-19 including working with governments to sensitize the public. They also participated in the distribution of food items and medicines to the vulnerable families while others have reached out to parents and children online to support and encourage.
Online child exploitation was noted as an issue that was on the rise. With closure of schools during COVID-19, statistics of online child exploitation and abuse globally was steadily increasing. Domestic violence was also on the rise with children now staying at home. The need to also attend to children's learning who don't have access to Internet was also an issue that needed attention.
The GNRC Secretary General assured members of the organization's support during this pandemic urging them to focus more on COVID-19 during the first quarter of the 2020 agenda, as the secretariat evaluates future situation. He concluded by encouraging members to reach out to each other and uplift one another noting that sometimes all it takes is to listen and offer moral support. Members pledged to review their activity plans in line with COVID-19.
Screenshot of some of the members during the GNRC–Africa Regional Meeting