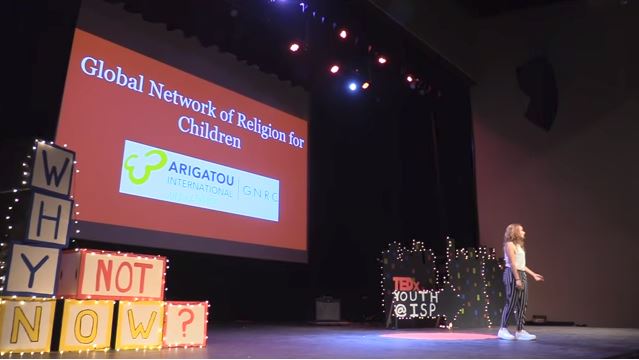 Ms. Raquel Sherman, a young GNRC member from Panama was featured on the TEDx Talk show on 11th March 2018. Ms. Sherman addressed the local audience and media in Panama on the role of children and youth in peace and development. In her presentation themed, "Two Sides of a Coin: Youth Empowerment," she emphasized the need to empower youth with ideas and opportunities to enable them to contribute to global peace and sustainable growth. In her opinion, youth empowerment is about creating opportunities for the youth to be involved and to follow through on their actions and also about making youth believe in themselves, thereby enabling them to create their own opportunities and be brave enough to follow them through.
She explained how the Fifth Forum of the Global Network of Religions for Children (GNRC), in which she was a participant, inspired and instilled confidence in her, and the sixty four (64) children in attendance. She added that the Forum gave her a platform to advocate for change of perception among faith communities as well as governments and international and civil society organizations about youth as perpetrators, and instead view them as part of the sustainable solution to end violence in all its forms.
Ms. Sherman at the talk show, urged adults to work with children and youth in peace building and development, because youth have an equal right to share their ideas and act on them.
Three points on how one can be empowered, stood out during her talk:
Try to listen; that it is important for one to listen to the other irrespective of age, knowledge capacity, race or religion; and by listening you gain wisdom, knowledge and ultimately get empowered. Appreciate and acknowledge other people's efforts; if you appreciate the milestone that one has achieved in aspect of life, then you will appreciate the struggle behind the success. Empower yourself; the key to success is first empowering yourself before others. Only by doing so will you increase your self-esteem and have the opportunity to empower others. "If you do not empower or believe in yourself, you don't open the possibility that others can believe in you," Ms. Sherman concluded.
To watch the video presentation, please open the link: Two sides of a Coin | Raquel Sherman | TEDxYouth@ISP