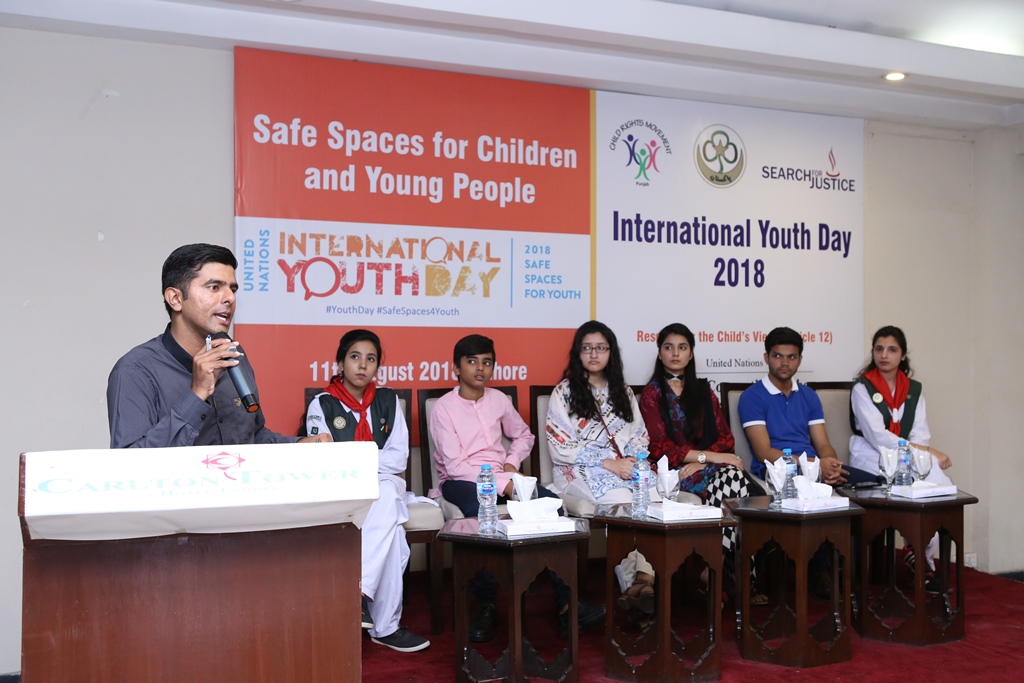 A children and youth led panel discussion was organized by GNRC–Pakistan, led by Search For Justice and other partners including Child Rights Movement Punjab and Pakistan Girl Guides Association. The event took place during this year's International World Youth Day on 12th August 2018. The discussion focused on pushing the Punjab Government to establish effective platforms in schools, colleges and communities where children and youth can exercise their right to expression without fear.
The Program Coordinator for Search For Justice, Ms. Rashida Qureshi, acknowledged that freedom of expression would offer children and youth safe spaces needed for them to come together, engage in activities related to their diverse needs and interests, participate in decision making processes and freely express themselves.
"While there are many types of spaces, safe spaces ensure the dignity and safety of youth and children is upheld throughout the world." – Ms. Rashida Qureshi, GNRC Member, Pakistan and Program Coordinator for Search For Justice.
This came at the backdrop of a unilateral opinion from the panelists that there is no concept of safe spaces in public educational institutions hence, children and youth face depression and mental stress due to absence of such platforms.
Mr. Malka Sajjad, a young activist cautioned that the platforms for children and youth must be free from all kinds of violence, harassment and discrimination but should be safe, allowing for freedom of expression.
To ensure creation and sustenance of the safe spaces, the panelists called for introduction of institutional mechanisms for implementation of recommendations accepted by Pakistan under Universal Periodic Review held in Geneva in November 2017. They also urged the Punjab Government to ensure effective implementation of Punjab Youth Policy 2012 by setting up particularly, the Youth Affairs Department with a toll-free counseling helpline for the youth to provide them with guidance and support around psychological, emotional, educational and career related issues. They also expressed the need for government to initiate life skills-based education programme in line with the commitment made in Punjab Youth Policy with a view to empowering children and youth to counter the seriously challenging issues like sexual abuse.