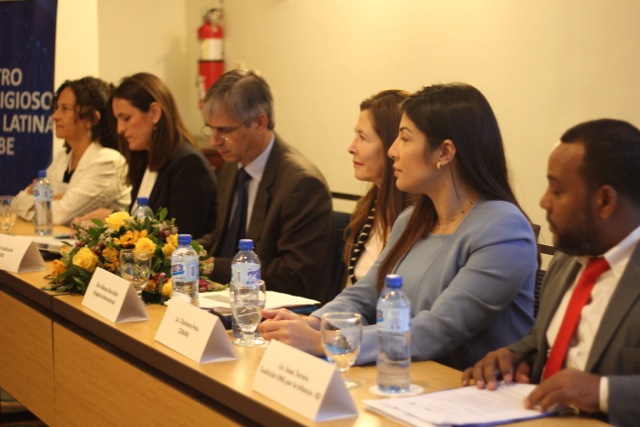 Forty five (45) faith leaders from Latin America and the Caribbean (LAC) region including Dominican Republic, Argentina, Chile, Cuba, Ecuador, Guatemala, Mexico, Nicaragua, Panama, Peru and Uruguay have affirmed their commitment to protecting children in the digital world. Participants met in Santo Domingo, Dominican Republic for the 4th Pre-Event Workshop on 11th – 12th September 2018 ahead of the Interfaith Alliance for Safer Communities Global Forum scheduled to take place in Abu Dhabi, United Arab Emirates (U.A.E) in November 2018. The workshop, which was organized by Arigatou International-GNRC in LAC in partnership with UNICEF, Plan International and the NGO Coalition for Children and with support from the U.A.E Government, deliberated on the challenges of online violence against children (including online child sexual exploitation) in the LAC region, and advocated for sustainable solutions to the problem.
Participants to the workshop included representatives from faith-based organizations, governments, international and grassroots organizations and members of the private sector. The workshop also had good faith representation including Islam, Christian (Catholic, Evangelical and other Christian denominations), Bahai, Hindu, Buddhist as well as other spiritual communities such as Brahma Kumaris, Sai Baba and The Art of Living, from across Latin America.
During the sessions, participants were provided with information on the staggering statistics of online child abuse and exploitation in the LAC countries and urged to take action to address the challenge. It was noted that the community hives in constant fear mostly due to likelihood of reprisal and intimidation from perpetrators. Members were thus urged to look at the bigger picture, and to do everything possible to end the scourge, to avoid losing future generations to violence and online child exploitation.
Participants pledged to uphold online child dignity and called for an end to the all forms of violence against children and youth from Latin America and the Caribbean (LAC) region.
The meeting was fashioned on active reflections and inputs from panel sessions and group work, with a special panel session with children to hear their views on the matter. The comprehensive report of the workshop will be shared during the Abu Dhabi meeting. Participants requested to be given four slots for religious leaders from the LAC region to sit in the Steering Committee organizing the Abu Dhabi Global Forum; A young Buddhist religious leader from Mexico who coordinates the GNRC in Mexico, the Catholic Archbishop of Ecuador, A Christian Bishop from Uruguay who coordinates the GNRC in the country female Catholic religious leader from the Dominican Republic.
Faith leaders reaffirmed their moral role to protect children from harm by promoting and encouraging positive use of the internet for the sake of children and youth.