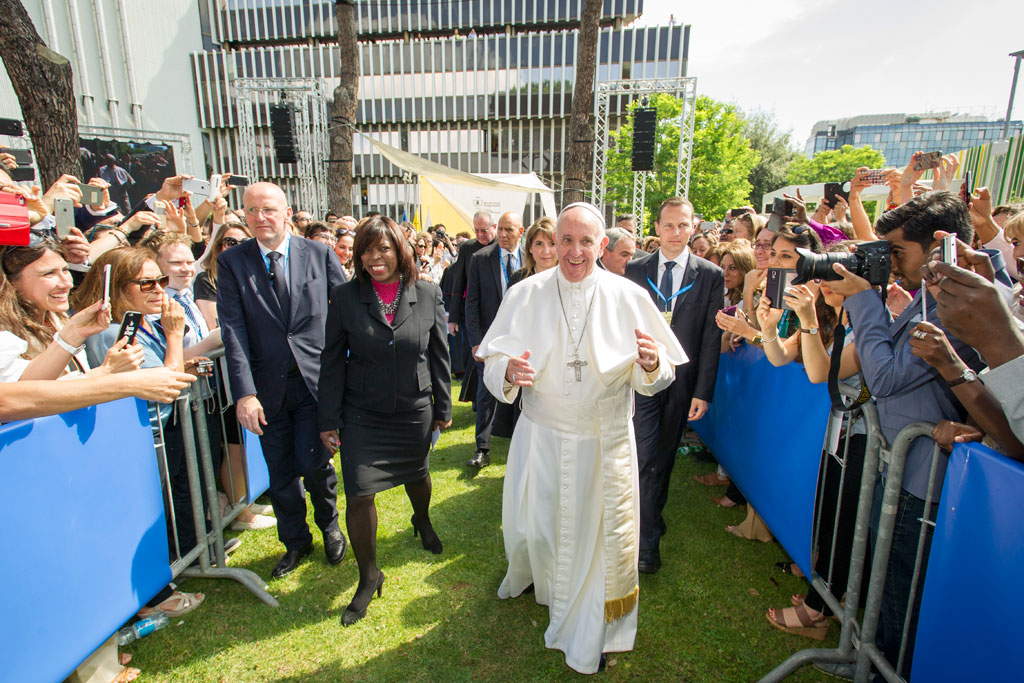 The GNRC Secretary General Dr. Mustafa Y. Ali participated in the Inter-Religious Engagement for Zero Hunger on 13th June, 2016, at the World Food Programme (WFP) headquarters, in Rome, Italy. The aim of the forum was to mobilize faith communities and organizations to help in the eradication of hunger and poverty across the world. Led by HH Pope Francis I, representatives from a range of faith-inspired NGOs and faith communities attended the WFP Forum.
In his remarks at the forum, HH Pope Francis I shared that excessive consumption of resources has led to wastage of food across the world and that each community should strive towards ensuring food security in their areas. His Holiness clarified that through helping the hungry and thirsty is when we can achieve humanity, faith and development. Noting that the world actually produces more food than it needs, Dr. Mustafa Y. Ali adviced that to end hunger, a focus on reducing wastage of food, and sharing surplus production, should be at the core of the strategy. "Faith communities, and all religious traditions commanded faithfuls to never allow anyone to go hungry, especially children. This commandment can be implemented across faiths, around the world to help end hunger", Dr. Ali stated.
WFP's Executive Director, Ertharin Cousin, described Pope Francis as "our Zero Hunger hero" and said that his call for the elimination of hunger and malnutrition spoke directly to WFP's mission to enable and empower the world's most vulnerable people. Ertharin Cousin explained that the fundamental morals of feeding and caring for eight hundred million people in the world lies at the heart of the world's major religions and WFP. She also elaborated that the world acknowledges the efforts of religious leaders and communities in offering aid to vulnerable people. And by working together the struggle towards success will be broader.
Participants highlighted that there would be more success on the Zero Hunger campaign if WFP would realise the potential of faith-based communities in steering peace and development initiatives. In his speech, the CEO of World Vision, Kevin Jenkins, added that local faith based groups have in the past been massively underutilized and that there was need for International NGOs to recognise their effort.
Participants also emphasized that religious groups have been engaging in humanitarian and development work, and there was immense need for them to be included in achieving the Zero Hunger goal. The former CEO of Islamic Relief Worldwide, Mohamed Ashmawey, added that religious institutions are among the avenues of solutions when there is crisis thus, local religious communities could play an important role in a sustained, worldwide effort to end hunger.
At the core of WFP's work is a drive to achieve the goal of Zero Hunger, one of the SDG goals by the year 2030. The 17 global goals, which have been agreed to by U.N member states, aim to tackle the root causes of hunger and poverty.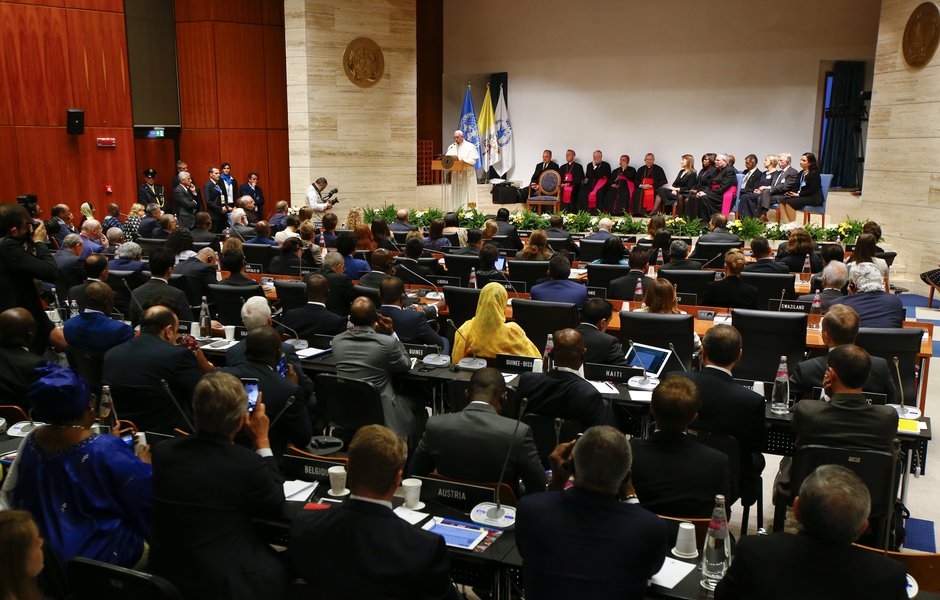 His Holiness Pope Francis I during his speech at the Inter-Religious Engagement for Zero Hunger Conference
Save
Save
Save
Save