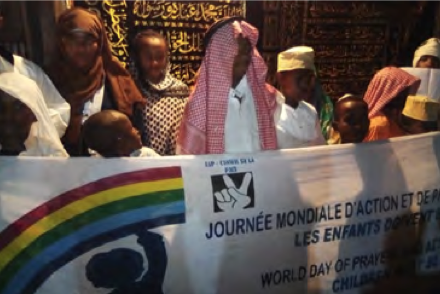 International Day for the Eradication of Poverty (IDEP)
Association Conseil de la Paix led oth- er GNRC members to commemorate IDEP on 14th October 2018 at Maison de l'emploi, Comoros. The event sought to listen to children and get their perspective on poverty. GNRC–Comoros partnered with National Commission of Gender and Solidarity under the Ministry of Public Health, and the Office of Grand Mufti of Comoros. 37 participants including 20 children and 17 adults participated in the event.
The Director, Office of the Grand Mufti, Mr. Mohamed Safari, shared the importance of education as a means of eradicating poverty. Citing verses from the Holy Qur'an on child protection, he explained Islam's stand on violence against children and protecting the human generation. Mr. Safari also pre- sented some bills adopted by the gov- ernment and the office of the Mufti to control the teachings given in Quranic schools as well as the sermons made in places of worship, with the aim to fight extremist discourses. He recommend- ed supporting faith-based schools to ensure safe learning environment for children including enforcing social practices such as hygiene.
Day of Prayer and Action for Children
GNRC–Comoros held a dictation, drawing and poem competition for children to celebrate DPAC and reflect on the CRC while encouraging children to work towards identifying their rights and promoting peace.