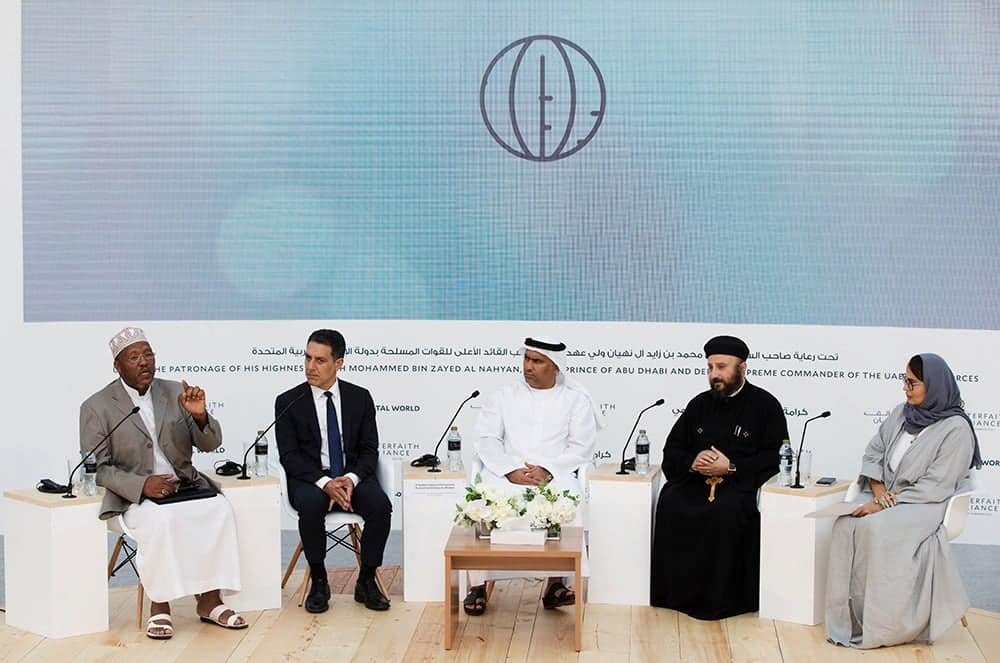 The U.A.E. Government will host the Interfaith Alliance Forum in U.A.E, Abu Dhabi on 19th and 20th November 2018, under the patronage of His Highness Sheikh Mohamed bin Zayed Al Nahyan, Crown Prince of Abu Dhabi and Deputy Supreme Commander of the U.A.E. Armed Forces. The announcement was formally made during the Press Conference organized by the U.A.E. Government at the Ministry of Interior headquarters on 24th September 2018, in which the Arigatou International Advisory Group Member, Sh. Ibrahim Lethome, was invited to take part.
The Interfaith Alliance Forum is supported by Al Azhar University in partnership with international organizations that include Arigatou International, Pontifical Gregorian University, Religions for Peace International, Shanti Ashram and UNICEF. The guiding theme of the forum is, "Protecting the Child's Dignity in the Digital World."
During the press conference, Brig. Mohammed Hamid bin Dalmouj Al Dhaheri, Secretary-General of the Office of the Deputy Prime Minister and Interior Minister, expressed his confidence that the event will realize joint international and interfaith solutions to combat international and local cybercrimes. He urged global leaders to implement such efforts at the grassroots level to empower the community to protect children from online sexual abuse and exploitation.
In his brief, Sh. Ibrahim Lethome, Arigatou International Advisory Group Member, called on all the world's spiritual and religious traditions to help in building a better world for children by upholding the dignity of the child in the online space. He affirmed his devotion to protecting child rights and enhancing children's well-being. "The fate of the children deserves our every effort," he noted.
Four hundred and fifty (450) religious and spiritual leaders are set to participate in the Global Forum, which among other issues aspires to discuss and address the challenges of online child sexual exploitation in the world, create awareness of the problem, advocate for its ending and encourage faith leaders to develop sustainable solutions to protect and secure the lives of children worldwide. The event also coincides with the World Day of Prayer and Action for Children and the World Children's Day, celebrated on 20th November every year, which brings together secular and faith-based organisations to work collaboratively to better the lives of children.
A series of pre-event workshops in preparation for the Interfaith Alliance Forum have been held in various countries, specifically Cairo, Egypt; Nairobi, Kenya; Manilla, Philippines; Abu Dhabi, U.A.E; and Santo Domingo, Dominican Republic. The outcomes of the pre-event workshops will form part of the deliberations of the broader Interfaith Alliance Forum.