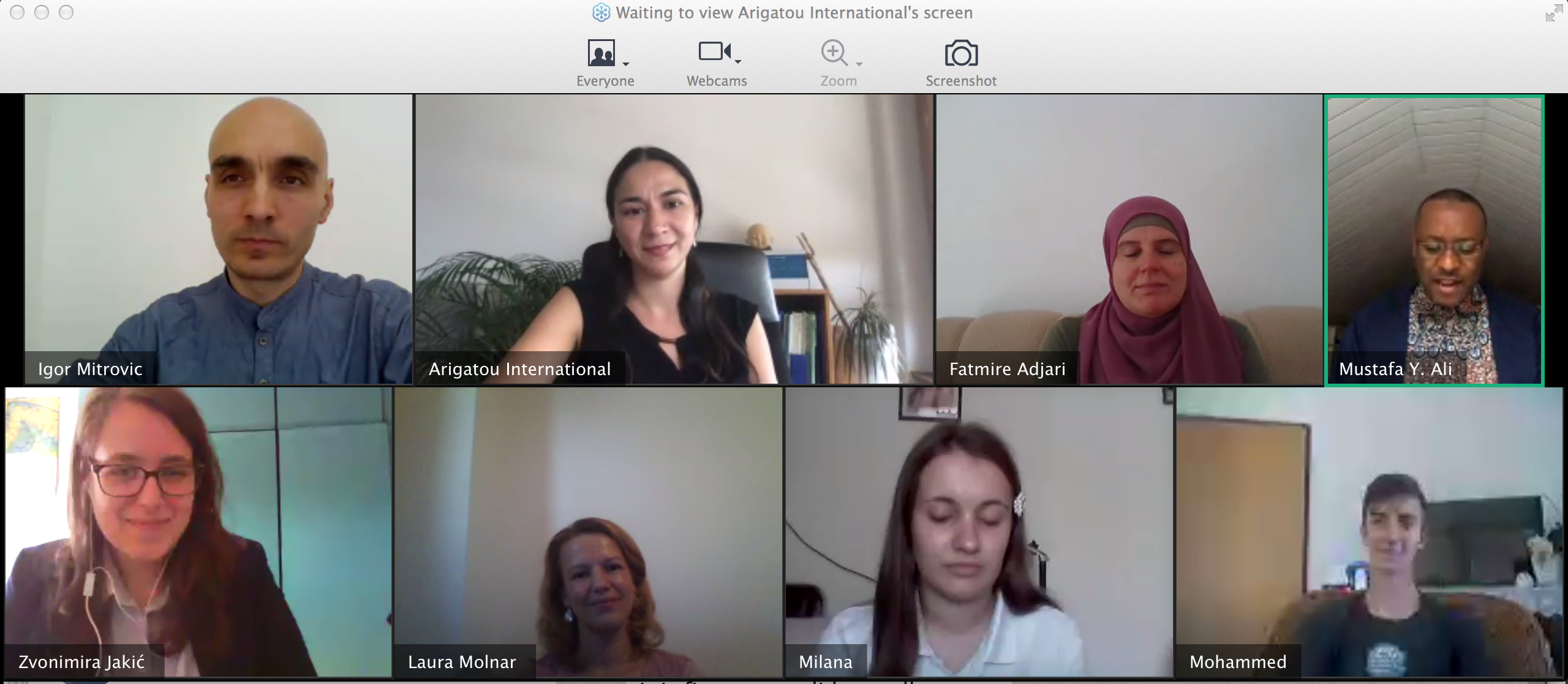 As part of the global campaign to initiate regional and local interventions from religious leaders and communities to support children, Arigatou International hosted its Europe Regional Meeting on Tuesday 28th July 2020. The meeting themed, "How Faith-Inspired Organizations in Europe are Supporting and Protecting Children during the COVID-19 Pandemic," was attended by more than 100 attendees via GoToWebinar.
The webinar was a collaboration of Arigatou International, KAICIID, ADRA International, UŽ "Mozaik" V. Čajno, Education for Change and Peace Education Program – First Children's Embassy in the World in Macedonia.
Faith in Action for Children calls on religious leaders and religious communities to increase their actions in response to the impact of the COVID-19 pandemic on children. Speakers shared their experiences on the pandemic, how the situation has been for children and young people, particularly now when they are returning to school, the implications on children's rights and how the most vulnerable have been affected. The meeting explored challenges and opportunities for collaboration to support, protect and empower children and young people.
Attendees had the opportunity to listen to the voices of Milana and Mohammed, children from Serbia and Bosnia & Herzegovina respectively, involved in the work of the Global Network of Religions for Children (GNRC). Also, they were able to learn from Zvonimira Jakic's experiences, a youth leader working to create collaborations between religious communities, government programs and civil society organizations and hear views from Rabbi Stanley Coten, from Norwood in the UK, who spoke about the work his community is doing in supporting children and families and calling for collaboration and coexistence. Mr. Igor Mitrović, Country Director for ADRA International Serbia shared about their work responding to the needs of the most vulnerable, particularly Roma communities and migrants, and their commitment to collaborate with Muslim communities in the country.
Similarly, members learned from Laura Molnar, Director of Education 4 Change organization, and GNRC Coordinator for Romania, about the impact of COVID-19 on the socio-emotional and spiritual well-being of children and concrete ways that parents, caregivers and faith communities can respond; as well as from Fatmire Adjari from 'First Children's Embassy in the World Megjashi' Republic of Macedonia, sharing about the work they have been doing to promote children's rights during this time including promoting hotlines, educating parents, and providing spaces for children and youth to share and learn.
At the end of the webinar children asked for space for their voices to heard and taken into account and for adults to listen to them.
Arigatou International is grateful to all partners, panelists and all who participated in the webinar.
The recording of the webinar is available here https://youtu.be/2LDRpOUlEHk. Feel free to share it with your networks.
We also invite you to visit Arigatou International COVID-19 Response Page https://arigatouinternational.org/en/response-to-covid19


You can similarly visit KAICIID's COVID-19 resources https://www.kaiciid.org/news-events/news/online-resources-and-inspiring-stories-time-covid-19