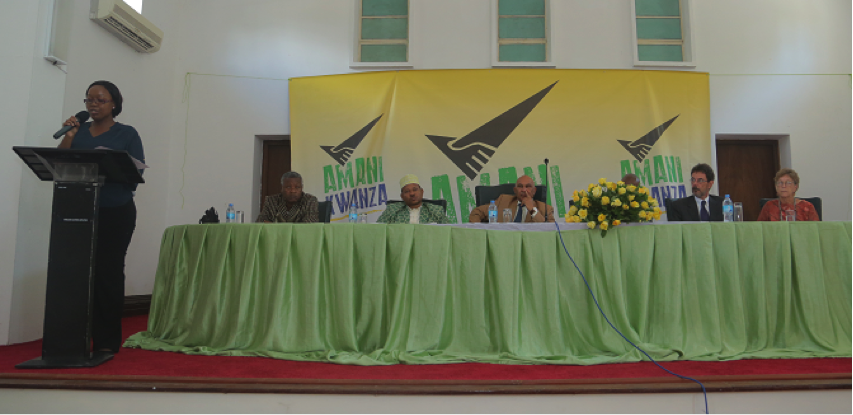 On the 18th March, 2015 the GNRC Tanzania in partnership with the Inter-Religious Council of Peace Tanzania (IRCPT) and The European Committee for Education and Agriculture (CEFA) launched the Amani Kwanza project at the Karimjee Hall, Dar es Salaam.
Invited guests included senior religious leaders of Tanzania, local government leaders, representatives of the diplomatic community, representatives of CSOs, the media and youth.
In her introductory remarks, the GNRC Tanzania Country Coordinator gave a brief introduction of the project and the coalition partners indicating that the Coalition partners recognize that Peace is an important prerequisite for sustainable development – at all levels– individual, communal and national level. It is in line with this that they designed the Amani Kwanza project – a multi- sectorial preventive program on building community resilience against violent extremism. This project aims at preserving a spirit of understanding, peaceful co – existence and dialogue among Tanzanians and helps mitigate and address obstacles and threats to peace and development by:
Strengthening peace and the setting for Interfaith dialogue in Tanzania;
Enhancing media's capacities to contribute to Peace Building and Conflict Resolution especially in view of the upcoming General Elections;
Set the foundations for the establishment of a national conflict early warning and response (CEWR) mechanism; and
Improving conditions for holding free and fair elections and increase the electorate's interest in participating in them in an active and peaceful.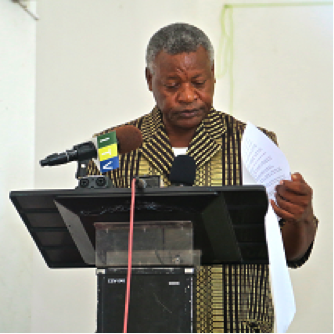 Rev. Cannon Thomas Godda, IRCPT Executive Director
The Executive Director of IRCPT, Rev. Canon Thomas Godda gave an in-depth description of the project including foreseen activities and results of the project highlighting that this is a pilot project that will be implemented in Dar es Salaam, Pwani, Arusha, Mbeya, Mwanza, Kigoma, Tanga and Zanzibar with a view to expanding into a nationwide project.
The religious leaders indicated their support for the Amani Kwanza recognizing that it has come at the right time. In his remarks, Sheikh Alhaj Mussa, Chief Sheikh of Dar es Salaam (Supreme Muslim Council in Tanzania) highlighted that the foundation of peace requires equality, observation of human rights, respect, forgiveness, love and tolerance.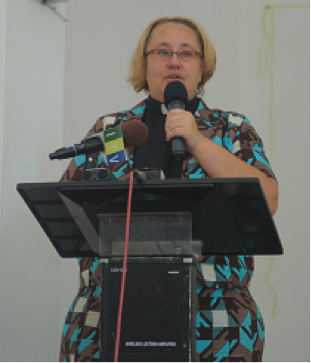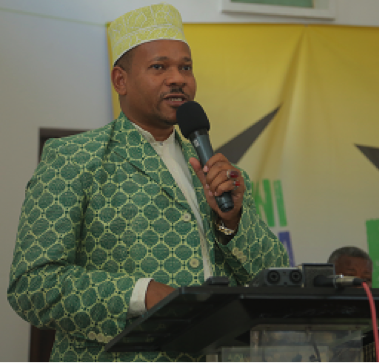 Rev. Stephanie Franz (ECT ECD) and Sheikh Alhaj Mussa (BAKWATA)
Rev. Stephanie Franz representing Bishop Malasusa of the Evangelical Lutheran Council Tanzania (CCT) welcomed the Peace message referring to Psalm 133:1 emphasizing the need that we must co-exist.
His Excellency Ambassador Olivier Chave, Swiss Ambassador to Tanzania and main donor of the project cemented the fact that Peace has to be nourished. It does not fall from the sky. He recognized that we are living in dangerous times where lack of education and employment can lead to extreme violence calling on the need to strengthen capacity to tolerate and love each other.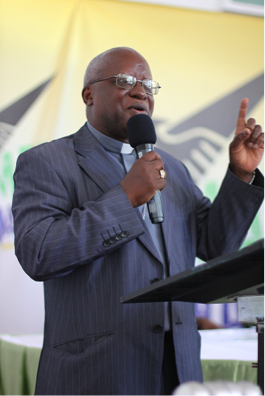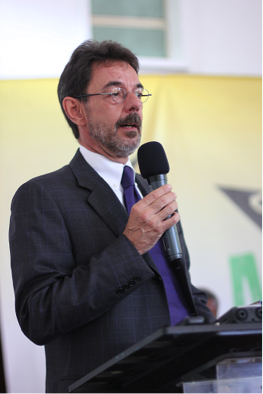 His Grace Bishop Kilaini and H. E. Ambassador Olivier Chave
His Grace Bishop Method Kilaini, co-patron of the Amani Kwanza project in welcoming the Guest of Honor first expressed that there is nothing as good as bringing people of different thoughts together for Peace.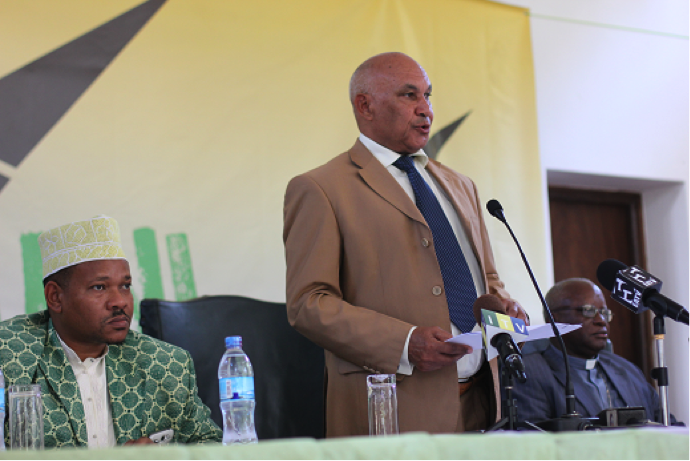 From left: Sheikh Alhaj Mussa, Hon. Said Meck Sadiq (Regional Commissioner Dar es Salaam) and His Grace Bishop Kilaini.
The Guest of Honor, Honorable Said Meck Sadiq, Regional Commissioner Dar es Salaam focused his speech on the youth as the easiest group to be coerced into violence. Moreover, he explained how both male and females suffer: young men are sent to the frontlines whilst young women are raped and forced into marriage. He highlighted that when violence comes it does not end. Furthermore, he explained that violence is BLIND. All will be affected therefore we must keep the peace.
The event televised on: Channel 10, Sibuka TV, Tumaini TV and TBC. It also appeared in the following newspapers: Uhuru, the Guardian, Majira, Mwananchi, Nipashe, Raia, Mtanzania and Tanzania Daima.