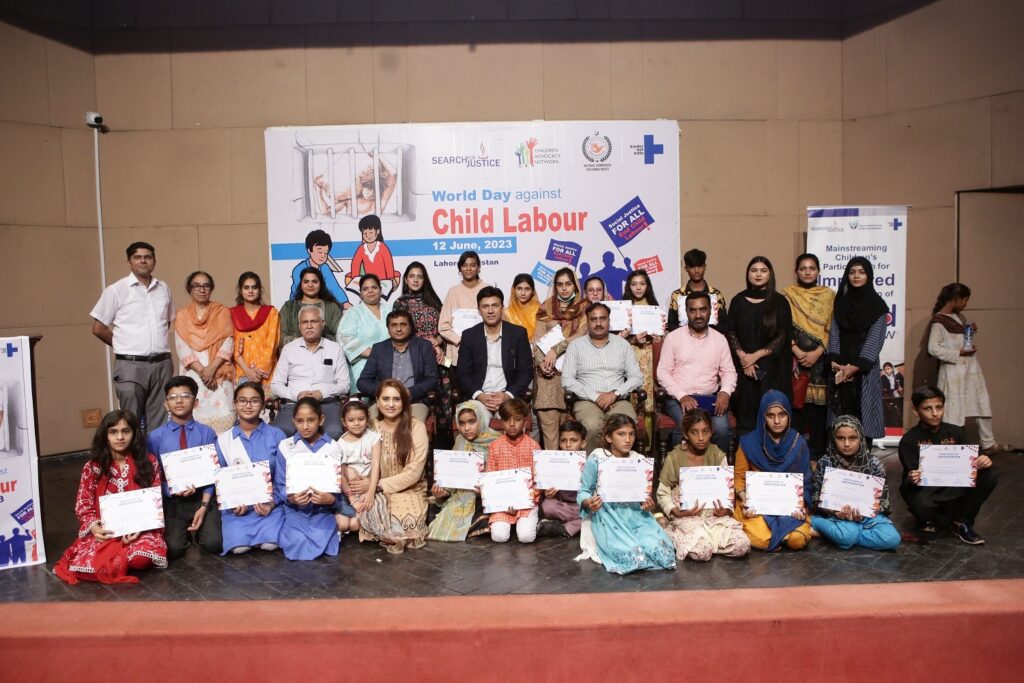 Child labor is a violation of human rights and a barrier to social and economic development. Governments, employers, workers, and civil societies should join forces and take concrete actions to eliminate child labor in all its forms.
Guided by this year's theme of the World Day Against Child Labor, 'Social Justice for All. End Child Labour!', hundreds of people gathered in Lahore on 12th June 2023 to commemorate the day. Led by Children Advocacy Network-Pakistan (CAN-Pakistan) and its partners, they demanded social justice for all children.
Despite the adoption of a National Policy on Child Labor in 2000 and a National Action Plan on Child Labour in 2016, Pakistan continues to be among countries with the highest prevalence of child labor in South Asia. The COVID-19 pandemic worsened the situation, as many families lost their livelihoods and pushed more children into child labor.
Mr. Raja Basharat, the Minister for Law and Parliamentary Affairs of Punjab, reaffirmed the government's commitment to end child labor and ensure social justice for all children. Ms. Hina Mansab Khan, President,Women Chamber of Commerce, and Industry (WCCI), emphasized the need to provide social protection to vulnerable groups, especially women and children, who are often exploited and abused. She added that social protection could help reduce poverty, inequality and vulnerability and create an enabling environment for decent work and sustainable development.
The role of social dialogue and social protection in preventing and combating child labour, backed up with testimonies from former child laborers were highlighted.
The event concluded with a pledge by all participants to join hands and work together to end child labour by 2025, as part of the Centenary Declaration for the Future of Work.
"Involving workers' organizations in the design and implementation of policies and programmes on child labour is a necessity as they could play a key role in raising awareness, mobilizing resources, providing services and advocating for the rights and interests of workers and their families." – Mr. Zahoor Awan, General Secretary, Pakistan Workers' Federation (PWF)